I was called upon to make a particular philosophical (scientific) instrument from descriptions of the original.  It is a portrait pantograph that reduces the outline or sillouette of a person sitting in a chair next to this machine.
There was an early artist named Sutliffe Maudsley and he did profile portraitures in the early nineteenth century, he did portraits of Joseph Smith Jr. and Hyrum Smith, Joseph Smith founded the Mormon Church.  There was an exhibit at their museum of Church History and Art in Salt Lake City a couple of years ago and one of the fellows that works there came up with a device using a shadow cast on a sheet and the profile copied then reduced.  He could not figure out how the device was made.
I became interested in this machine and from the original descriptions of the original and how it operated, I figured it out.  It was a matter of making a mock-up and seeing if it would work, and it did.  So I built it using traditional techniques of the time period keeping true to traditional construction and materials.
The large lapped base is for stability and the mechanism is this height to accomidate the person sitting in a chair to the left of the upright.  The base is made to actually position the legs of a chair in the proper position.  The clamp is temporary.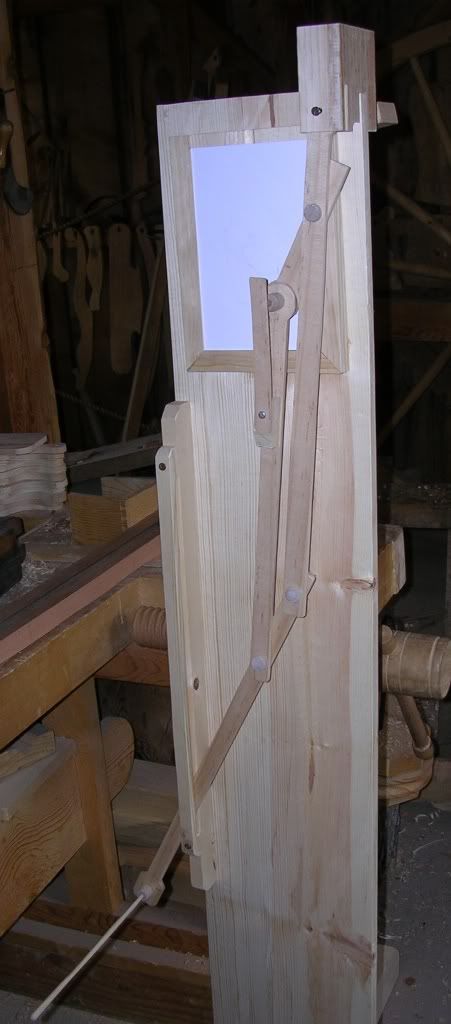 The long thin stylus on the lower left is used to follow around the profile of a person sitting in a chair.  The arms then transfer and reduce 5:1 to the paper held in a frame.  The frame is adjustable to accommodate adults and children.  There is a pencil in the mechanism just in front of the paper, and when ready to draw, a new piece of paper is inserted in the frame, the pencil pushed into place and the wooden spring put on the end to push it on the paper.
By vary carefully moving the stylus around the profile a small portrait is drawn matching the profile of the individual but much smaller.  It was a hit during training last evening and will be in daily use when the park opens up this week end.
I will make a video of it in operation as soon as it is set up.  This was a fun project to figure out and build.
Stephen