The second thing they had was an 'endless' supply of wood at their disposal.  This was a new thing for the early settlers, a land with endless resources that had not been touched, in Europe most of the old growth was being used up and supplies running low.  But in the 'New World' were more trees than they could possibly use.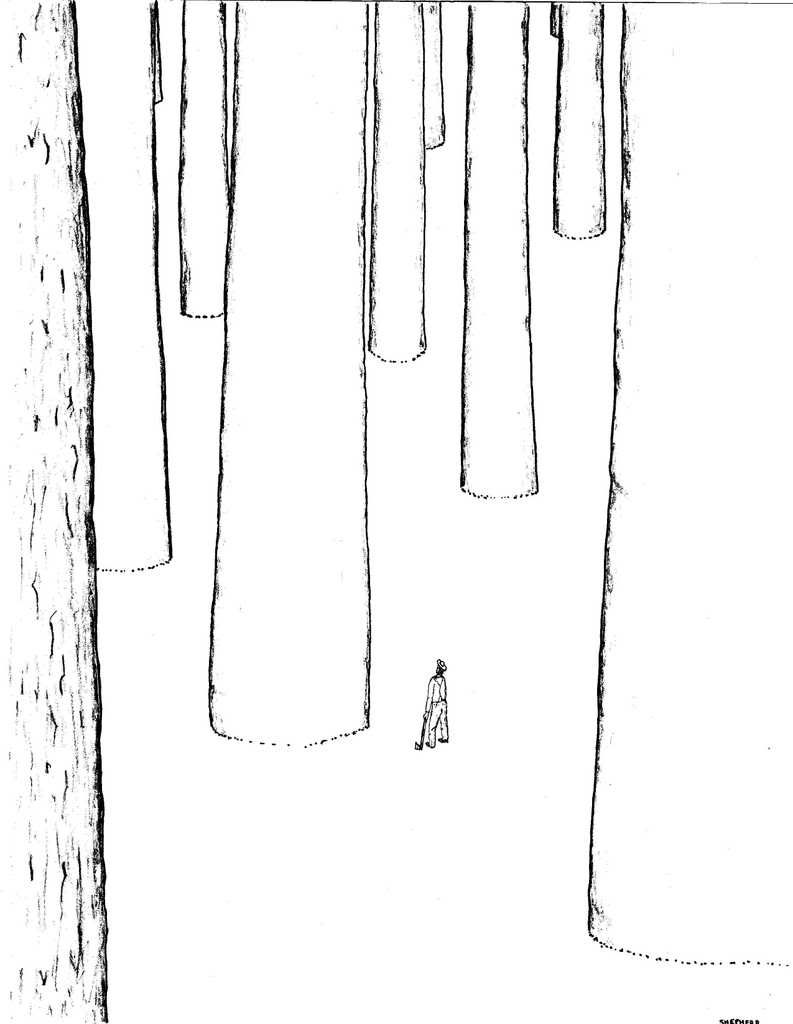 Now this is what the massive mixed mesophytic climax forest looked like in the nineteenth century.  This oak/hickory, beech/maple hardwood forest was the largest in the hemisphere and provided an endless supply of wood. 
However there is a wood supply problem that they had, finding saw logs.  A saw log is a log that will fit into a saw mill.  The diameter of the tree needs to be small enough to fit within the frameworks of the up-down sash saw mill.  Then they were cut to length to fit on the carriage in the mill.  The length of the carriage dictated the maximum length of boards that the mill produces.  Because these were set up in the area where there were trees and water to power the mill and the lengths of the carriages vary somewhat from location to location. 
What didn't change was the length of the mill irons.  This was a term describing the metal pieces it took to make a mill and this hardware was called mill irons.  According to the catalogues available at the time period it looks like mill saws were up to 8 feet long.  Loosing say 6 inches on either end for attaching to the sash, you have an effective blade length of 7 feet.  Now taking into consideration the stroke of the mill, usually a foot the maximum log that could be sawn was 6 feet in diameter.  Today we might consider that a large tree, in the nineteenth century it was considered a saw log.  Anything bigger wasn't.
Most of the trees growing in the Midwest and East were much larger, were girdled, allowed to dry on the stump for 5 years, then felled and burned.  Yes most of the wood available was just too big to be cut up into lumber.  They had no way of reducing it to lumber.  It was in their way as they were clearing the land for agricultural purposes.  And the soil was wonderful, several feet of good top soil from centuries of bast accumulations on the forest floor.  And it looked much different as the canopy of leaves would prevent sunlight from reaching the forest floor, so there was little or no underbrush, but a park like atmosphere with large trees reaching up for sunlight. 
There were reports of people traveling a couple of days to get to where they could see the sunshine.  A 205 acre cornfield/floodplain on the White River near Noblesville Indiana, owned by William Conner (first Governor) and in the 1820's there were reports of people traveling many miles and in some cases several days to get to this place where they could see the sun, if it wasn't overcast.  The forest was massive and dark, even in the winter time when the leaves are gone, the branches and foul weather let in very little light, it must have been an interesting if not terrifying experience. 
Because of the large number of rivers and streams, most of the trees were transported by floating them down river to a sawmill where they could be converted them into lumber and scantlings.  Floaters such as poplar were secured in rafts with sinkers like white oak to keep them afloat until they reached the mill.  Of course some of the sinkers sank and are being recovered, and of course this is all original first growth trees. 
Called 'wild wood', England ran out of the stuff in the late 1600's and started using second growth trees.  But here in America we had plenty of wood.  During colonial times certain trees were marked with the broad arrow, indicating they were Naval Stores and belonged to the King.  It was illegal to chop down one of these Royal trees. 
Well after a couple of scuffles with Great Britain, the upstart colonists expanded West into the great hardwood forests of the Midwest.  Most of the large trees were in the way of farming and removed and burned.  Accounts from the nineteenth century about how bad the rivers were as everyone threw all their trash and dead animals.  The skies were filled with smoke, both from heating and cooking fires and the piles of huge old growth trees were smoldering as they were burned. 
Then of course there was that volcano (Mount Tambora) in the Pacific that blew in 1815 resulting in the 'Year Without a Summer', 1816.  It snowed as late as July and then begin again in late August.  This was a worldwide phenomenon that produced some interesting results besides an enormous number of deaths.   John William Polidori and Mary Shelley and a couple of other authors (Lord Byron) were in a castle in Switzerland at the time and during these dark and cold times they wrote 'Vampyre' and 'Frankenstein'. 
So what was this forest producing, well some of the finest lumber that has ever come from trees.  Many of these trees had been growing for 500 to 700 years, had been growing during the Maunder Minimum (mini-ice age) that occurred around 1270 AD.  There was also a world wide drought that started in 1830 and continued through 1870, so for 40 years the tree rings are very tight. Trees that were 90 feet to the first crotch.  Trees growing in pristine conditions with no natural predators until humans came around.  Massive trees, growing tall and straight, so many and so large they just got in the way.
The British commented on how wasteful American Lumbering practices were in the nineteenth century.  It was probably considered wasteful as so much of it was just burned and the Americans just couldn't see a problem as there was more wood than they could possibly use, it seemed endless.On old pieces of furniture it is not uncommon to see large boards in back panels, drawer bottoms and dust boards.  It was common to see quarter sawn wood used on drawer sides and panels where stability was necessary. 
I had the opportunity to restore an early nineteenth century blackboard from an old school.  It was a bit over one and one half inches thick, poplar, about 8 or 9 feet long and 42 inches wide, a single board.  It was sawn from a larger log as this slab was about 2 to 3 feet from the center of the tree.  I am not sure but I think the log had been squared prior to slabbing off the boards.  The board had a slight bow, I installed hickory battens with screws in slots and built a framework around the blackboard.  The original was mitered around the corner of a wall and continued.  I left the original miter (on the back side).  It was one nice slab of poplar.  And pieces like this were common. 
I have also had the opportunity to visit sites of original growth.  While the Giant Redwoods of California are some big trees as are those growing in Olympia Washington, the hardwood trees growing in the Pioneer Mothers Memorial Forest in southern Indiana had some old growth trees.  White oak and Poplar, one which we surrounded with 9 people touching finger tips while hugging the tree.  It was 53 feet in circumference.  Some of the other trees were larger.  If you ever get an opportunity to visit 'big trees', it is worth the time as it can give you a better perspective on life in earlier times.
And in architecture of the period you can also see how big some of those timbers were.   When I first visited the Midwest I was amazed that Walnut was used for barn beams and 2 by 4's in building construction.  I then learned that it was common and during the time period walnut was called 'black pine' and that was a term of derision, it is also call some other things which I will not mention except for 'p*** pine'.  It was not a popular furniture wood during this time period.
Today we can only dream of the fine woods they had at their disposal.  Occasionally we do find some nice wide boards and of course all of those antiques with their original growth woods.  If I were to live back then (If I were a frog, I'd be a prince) and for the most part I wouldn't want to do that, but all that wood, that would be an enticement.
Stephen