The Art Of Joinery by Joseph Moxon in London in 1703 was a collection of pamphlets originally published in 1678 and was the first English language book describing woodworking.  It is a unique insight into eighteenth century woodworking practices, many of which are familiar today.  Moxon did have some experience, his mention about glue for one and he was a mathematical instrument maker, so he had some hands on knowledge of the period.
He also took it upon himself not to state the obvious, giving short shrift to many things we would love to read.  Then there is the problem with reading some of his text, for example his explanation of the plow plane (let alone the engraving is reversed) is senseless when you read it, he refers to both the body/fence and two beams as staves.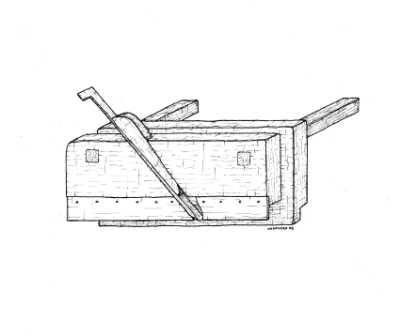 Here is the plow plane in its non reversed configuration.
Then there is the problem of the engravings, of course scale is not there unless it is the ruler.  And the text doesn't match the engraving as Chris Schwarz points out in his analysis.  There is also a problem with the engraving in that the number 2 in 12 is off the end of the ruler.
Moxon's description of the pricker (not wanting to call it the vulgar 'awl') with a square (as opposed to round) shaft and scoring the wood to prevent splitting says a lot.  Some of his text about the techniques may seem counter-intuitive but once they are given a go, the results can be surprising.
Using a sharpening stone upside down was nothing new to me, I have used this method since I first learn to properly sharpen tools.  The great advantage is that you can easily view the progress of your sharpening without having to reverse the blade.  This works especially well on knife blades.
Also using the strike block plane upside down seems odd, yet I have reversed planes and pulled small pieces over the blade, I will have to try some other things like miters.  I have yet to subject a saw blade to his particular description of using a saw wrest, but I intend to in the near future.
I have also added a Category 'Moxon' because I am sure there will be more said latter.  Also check out Leif's review over on Norse Woodsmith of the Schwarz edition.
Stephen