There are a couple of types of spoon bits, the more common is like a gouge bit but the end forms a spoon shape with the cutting edge on the end.  It goes to a slight point and is helpful for starting the hole as it has a center that will not wander or walk when starting the bit.  There are no reproductions of common spoon bits, however there are a few makers of 'chair makers bits' or 'brush maker's bit' and is commonly called a Duck bill spoon bit.  Here is a new made bit.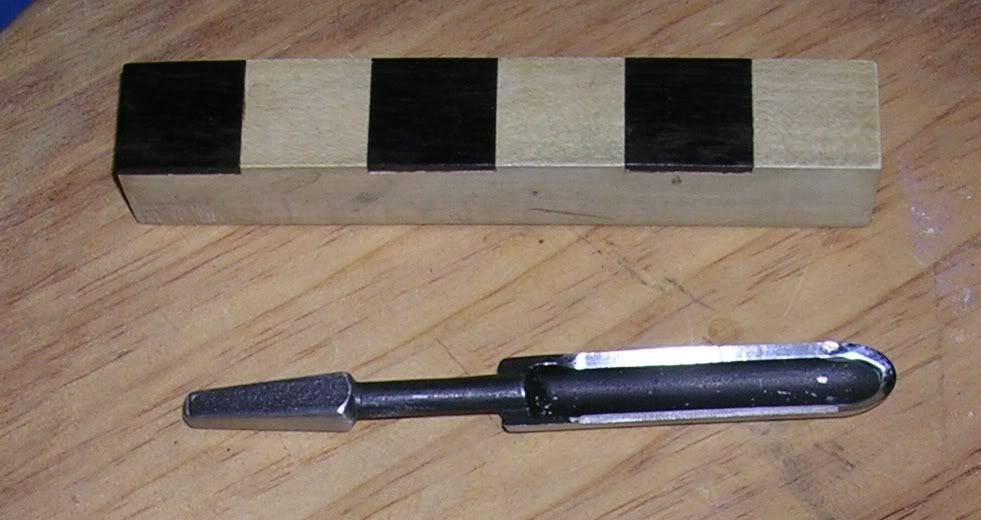 As you can see it is not a traditional design, neither are any of the other duck bill spoon bits using traditional design.  And how does this vary from originals?  It has to do with the awkward transition from the shank to the bit, traditional bits look like the gouge bits in the previous post except with spoon tips.  There is also the matter of the sharpening.  This bit was sharpened everywhere you can see shiney metal, unlike traditional bits that were only sharpened on the spoon end.
I purchased this one to see if I could alter it somehow to look good, I think it will take too much work.  I drilled a hole with this one (5/8″ diameter) and it when down through end grain, wonderfully.  However the sharpened sides left an oval hole as I anticipated they would, old bits are not sharpened there, just on the tip.
I took the bit out of the brace, filed off the sharp edges on the side, put it back into the brace and it drilled an excellent hole.  I certainly wish they would have gone to a traditional style as I would have bought several sets for the Living History Museum where I work but they are just not right, too bad.
These bits were commonly used by chairmakers as it produces an excellent hole and with no lead screw it won't drill through leaving a mark.  With no lead screw, pressure needs to be applied to the brace, but properly sharpened (and properly unsharpened) these bits work well.  The round bottom of the socket can recieve a round bottom tenon on the spindle or leg.  Rounding the ends of spindles to fit better in these socket holes was done, not all the time, but frequently.
I think some of my gouge bits started life as spoon bits and were just sharpened away making them gouge bits.  Continued sharpening will eventually turn all spoon bits into gouge bits, so avoid nails and screws and try not to oversharpen.  But when your spoon bit quits working, it can be ground into a gouge bit.
As with other non twisted bits the drilling dross needs to be removed from the hole, you need to remove the bit from time to time to remove the shavings.  Sometimes the shavings will come out of the hole at other times it can jamb up the bit in the hole when it gets deeper.
This bit is good for kids to drill holes with especially if they have never used a drill before, the unique shaving it produces is facinating to the kids, it even interests their parents.
These were popular up through the first half of the nineteenth century, then were largely replaced by twist auger bits such as Jennings and Gedge, for chairmaking.  This is not always the case but later catalogues focus more on twist augers and even group spoon bits with shell or gouge bits.
Stephen