I made one of these saws back in the 1970's while working at Conner Prairie Pioneer Settlement.  Sold it some years later and always wanted to make another, so I did.  I had the blade, the end of an old saw that had been made into other things.  The blade was kinked and broken, so saving it was out of the question, but salvage was not.

Mark Schramm, the blacksmith at This is the Place Heritage Park, made the tang and provided the rivets.  I will punch the holes in the saw blade, punching is much quicker than drilling the steel blade.  I will also put a few barbs on the tang before inserting it into the pistol grip shape handle.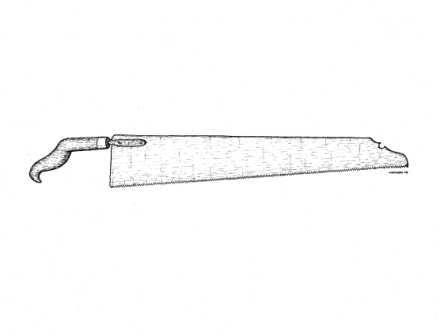 It will look something like the saw pictured above.
Now I just have to make the handle.  I will use cherry to match my other saw handles and put a ferrule on to prevent splitting.
Stephen