These were very common in the nineteenth century, it is in effect a briefcase or laptop of the period.   Most were constructed of common secondary woods, pine, poplar, chestnut, etc and covered with fancy veneer such as rosewood, mahogany, etc. and even stringing, inlays, marquetry and metal mounts. 
When folded up, it had a lock to keep it together and private, and when opened provided a slanted writing surface plus two storage areas for papers, ink, quill, sander or blotter and other accouterments needed for proper correspondence to conduct business in a neat manner.  They were for use in the household, at the shop for business or while traveling.
The construction of the carcase varies from through dovetails to half blind dovetails, like I selected for this example.  Again another one of those items I can cross off my list of things I have always wanted to built.  If that list wasn't getting bigger when I see new things, it would be getting smaller because I am actually building many projects that I have planned to do sometime in my life.
I will make a variation on this particular one as I will just paint on the veneer and the stringing.  There are painted examples (a few leather covered also exist) but most are veneered.  So don't say anything about the dovetails, they will be filled with putty and painted and you will never see them.
I started out with the four sides glued together, held with a rope tourniquet and toggle.  I use ropes and toggles for clamping all kinds of objects, especially chairs and for repair work.  A mostly overlooked technique, it is as about as cheap a clamp as can be had.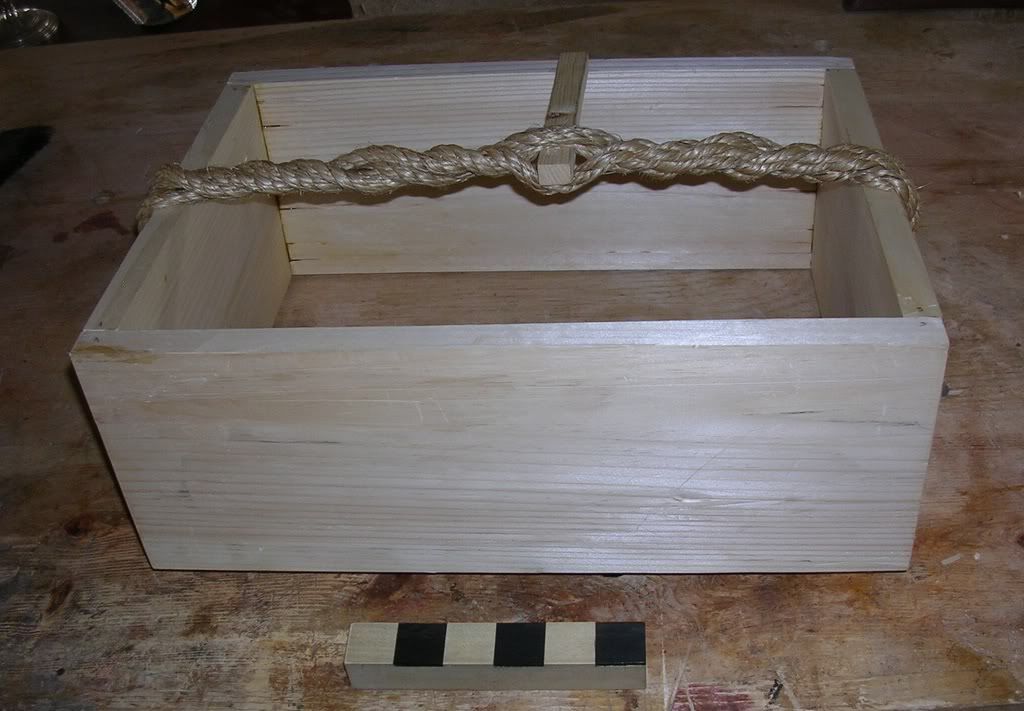 Here is a view from the side showing the half blind dovetails.
Here is a view on the inside, alright, I did saw past the score line, but it is on the inside, so who cares.
Here is what the box looks like all closed up.  The top and bottom are cut to fit, glued and nailed in place.  Should I worry about cross grain, yes, just as much as the original craftsman did.  And most of the time on old lap desks there are problems caused by this.  Together with the fact that most are only veneered and finished on the outside, but with smaller pieces, this single side treatment isn't much of a problem.
And this is what it looks like open with the hinges installed.  I made a fundamental mistake when laying out the position of the dovetails, can you spot the glaring mistake?  If not I probably won't say anything.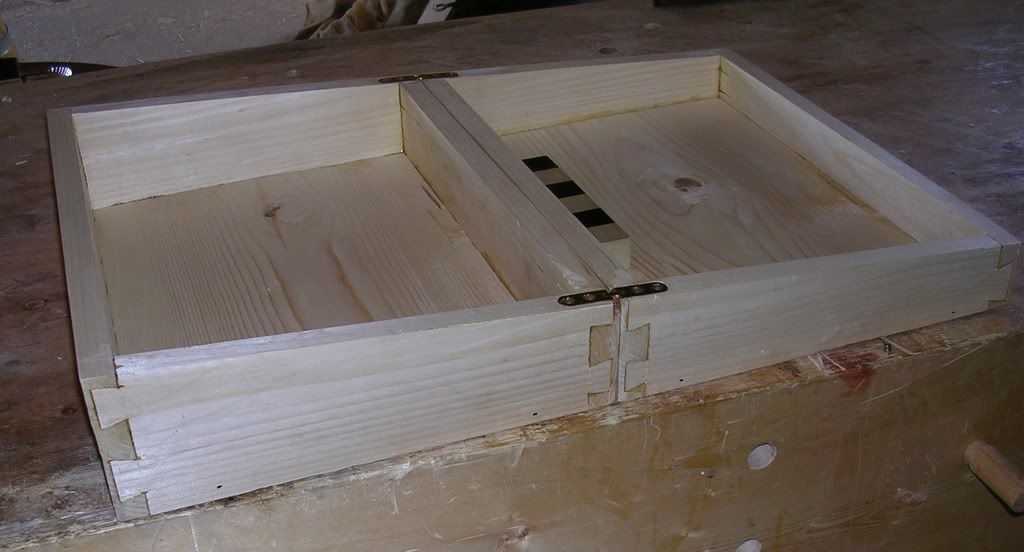 Now I thought that the second set of hinges I ordered were like the first set, but oh no, the leaf in between is bigger, so it left a big gap at the back.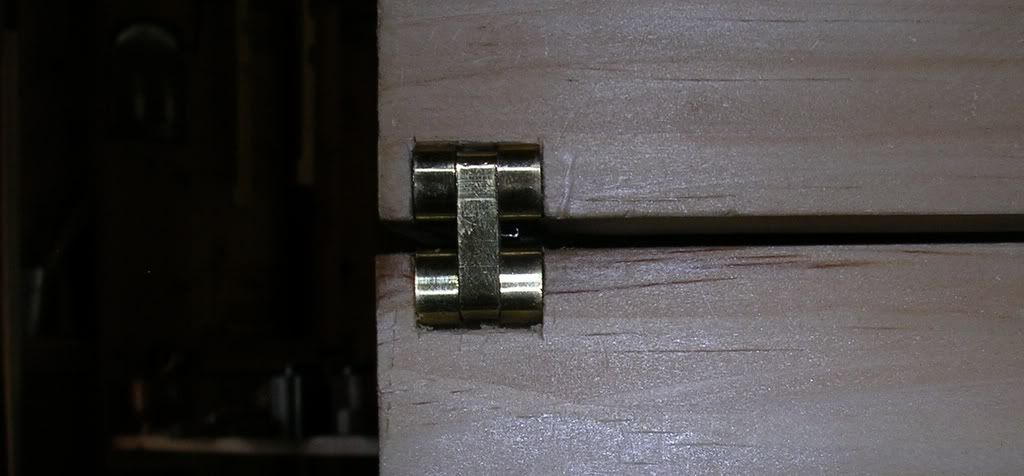 This required me to remove the hinges and re-mortise them a bit deeper to remove the gap.  Wow, that nasty mistake rears its ugly head, won't do that again, and I have another set of hinges so I will build at least one more.  I want to copy the one that is in Baltimore that was used by Edgar Allen Poe.  It is a big one and has a table base for use when not traveling.
I am fashioning the writing surface(s) from some thin soft maple I have, the hinge will be either leather or cloth, depending on what I choose for the writing surface.  If I use cloth, I will paint it to look like leather, with a little glycerin in the paint to keep it flexible.  I will also add a bit to the hide glue for that same purpose.
Stephen