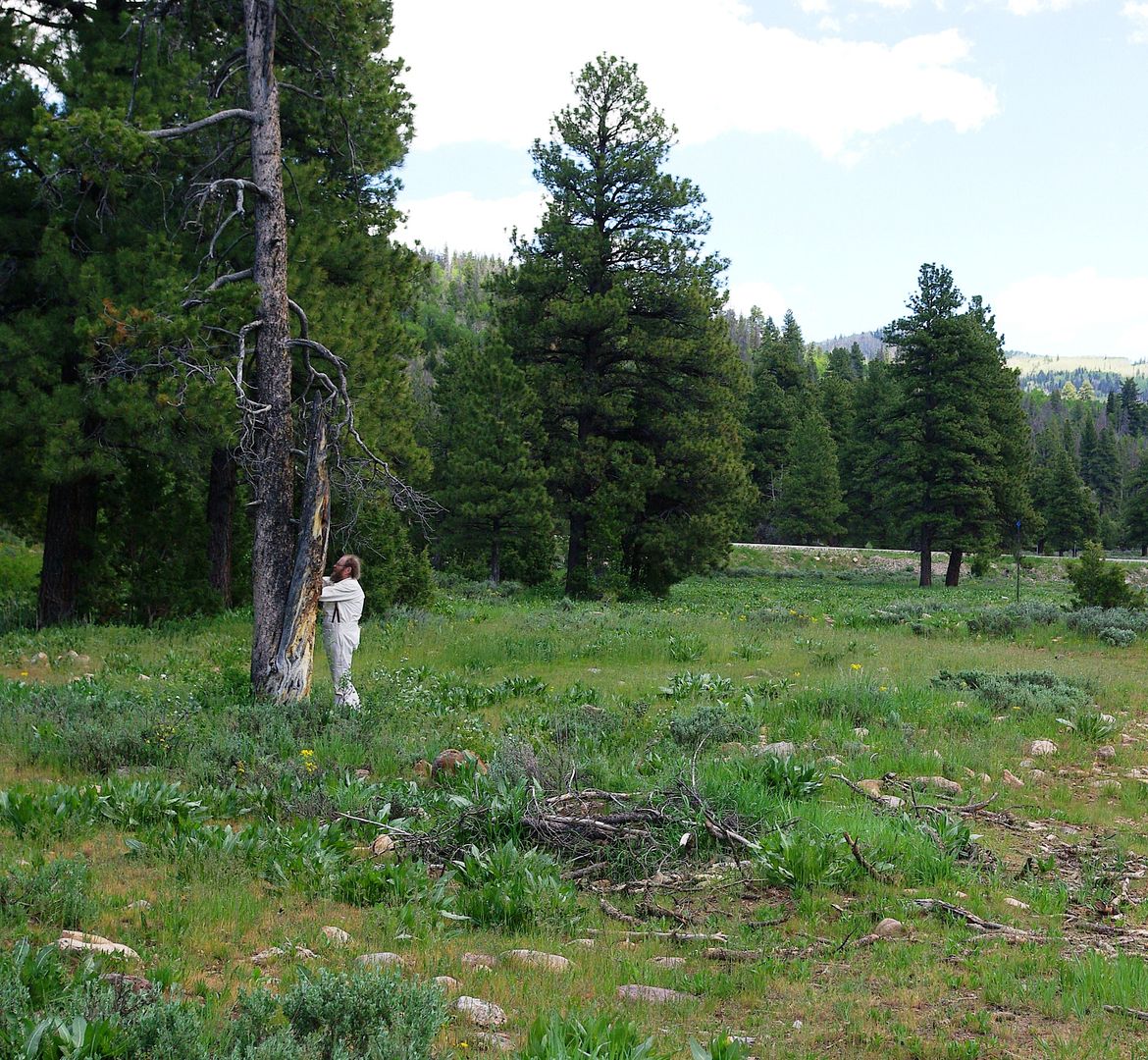 I was asked the other day by a friend in a face to face meeting; 'Why are you so odd?'
And he was asking in a good way, he wanted to know why I had chosen the path I have taken and how did I get here and what were the influences that developed into my curious, peculiar and unique philosophy?  I do after all only own 19th century
clothing, I don't drive a car, I don't use power tools, I don't use anything
modern when it relates to woodworking, I know much more about the past than the
present.  I am not a Luddite, but I am sympathetic to their cause.
I thought about this for a moment and related the following story: it all started while I was at the University of Utah studying philosophy specializing in linguistics and logic, and during that time I met a lady who would become my first wife. At the time she happened to be the State Champion in black powder rifle and pistol and her father was a muzzleloader/mountain man as well as an accomplished architect, cabinetmaker, gun-maker, blacksmith, a real renaissance man with an extensive library.
Realizing that I couldn't get a job with DuPont as a philosopher, I needed a trade, I liked blacksmithing but couldn't take the heat, and then my fiancé saw an advertisement in a local newspaper for apprentice Cabinetmakers. Having read Sloan, Hayward, Watson, Mercer, Goodman, Salaman and others, I applied for the job, told in the interview I would have to cut my hair for safety reasons, I agreed and got the job, that was in the fall of 1972.
Fetzer's Salt Lake Cabinet & Fixture Company was and is one of the largest, finest commercial cabinet shops in the Western United States and many of the craftsmen are from Germany, Europe and the United Kingdom. This was a big shop, it had a separate mill, cabinet shop, upholstery shop, hardware shop and finishing shop, so my training was specific to cabinetmaking and I did a bit of upholstery but no mill work, etc.
I was fortunate enough to be assigned to Werner Krause who did the finest high end work the shop put out, he was the head cabinetmaker. After the obligatory keeping the apprentice in the dark as to trade secrets, trust and friendship soon developed and was accepted and taught all I could learn.
At about the same time a friend had an antique shop and I started to repair old furniture for him and buying all of the old tools I could find. Even bought the tools the craftsmen at Fetzers were given after WWII for rebuilding their war devastated countries. They were all hand tools as they had no electricity and most were marked CARE. Most of the craftsmen were happy to get rid of their old tools for money to the crazy apprentice.
Sometimes it paid off, a project came into the shop where 13 wooden columns needed to be restored to put in a new downtown Salt Lake City store. They had an interesting history in that they were originally made to support the gallery in the Mormon Tabernacle built in the 1860's. They were made of solid wood, a big log bored out and turned on a rather large lathe, the columns were 16 feet tall. The capitals and plinths were turned separate and attached. Well the story goes that when Brigham Young saw how they were constructed that he ordered new ones built that were coopered together rather than solid logs. That proved to be a better design as these columns did split over the course of their lifetime.
These columns had been used somewhere and had many coats of paint, filled cracks and were in need of stripping, they wanted them the natural wood. It wasn't until years later that I realized they should have been painted as that is what the originating designers and craftsman had intended, the final ones are marbleized and look great. They tried everything from grinder to belt sanders, power planers, nothing worked.
So being a stupid apprentice I said to Werner that I could do that with a metal spoke shave. He went to the shop foreman and told him, he told me to bring my tools in the morning. So the next day I showed up with a few old metal spoke shaves and showed them how they worked. They said excellent and said 'now finish the rest'. I still haven't learned to keep my mouth shut.
As I began my apprenticeship at the same time Salt Lake Technical College started its apprenticeship Cabinetmaking program after not having one for 22 years and was able to attend classes in the evening and went through 3 years of supplemental training. Fetzers even paid the tuition and attendance was required.
As a journeyman I figured it was time for my journey and started out on my own. I quickly found work at living history museums in Utah and Indiana and in 1977 I was interviewed for the position of Associate Furniture Conservator at the Henry Francis DuPont Winterthur Museum. Ah the serendipity.
I opened up my own shop in 1980 and published Shepherds' Compleat Early Nineteenth Century Woodworker in 1981, it was the kind of book I wanted when I started out, still a good book after all these years. We got some major contracts with the Church of Jesus Christ of Latter Day Saints, the National Park Service and others to restore artifacts and build historic woodwork, so I have been restoring antiquities for nearly 40 years and it's all done with hand tools. Keeping in the theme I published Hide Glue – Historical & Practical Applications in 2009 and Shellac, Linseed Oil, & Paint – Traditional 19th Century Woodwork Finishes in 2011 and have reprinted The Universal Receipt Book [1824-1835 edition] containing 6000 recipes for paint, varnish, food, distilling, brewing, etc as well as the 1852 Utah Territorial Library Catalogue. I have also written magazine articles on preserving the past in Woodworker's Journal, Muzzleloader Magazine and Fine Woodworking Magazine. And on my website and blog I have continued to help preserve traditional 19th century American woodworking technology and help conserve the antiquities we have left, remember they aren't making them anymore.
During my experience I have had some moments that are difficult to describe but were responsible for me choosing my path. Setting next to a wood fireplace in an atmosphere conducive to history, I would read Sloan, Watson and others and from their pictures and words I was transported to the past. I have had occasion when working in a period cabinet shop, wearing clothing of the time, body nourished by traditional food and making a copy of an original piece of 19th century furniture, I have looked around and not been able, or willing to see anything modern and during those moments I couldn't tell when I was. Those images and memories come back when I am doing traditional woodwork and I like that feeling, I am there, I am doing exactly what my ancestors did, the only difference is time.
Perhaps people think I am odd because I don't use power tools, well my philosophy about that is the power tools are invariably expensive, take up a lot of valuable shop space, makes large quantities of annoying dust, are generally dangerous and always terribly noisy. But the main reason I don't use power tools is that they are so slow.
Stephen