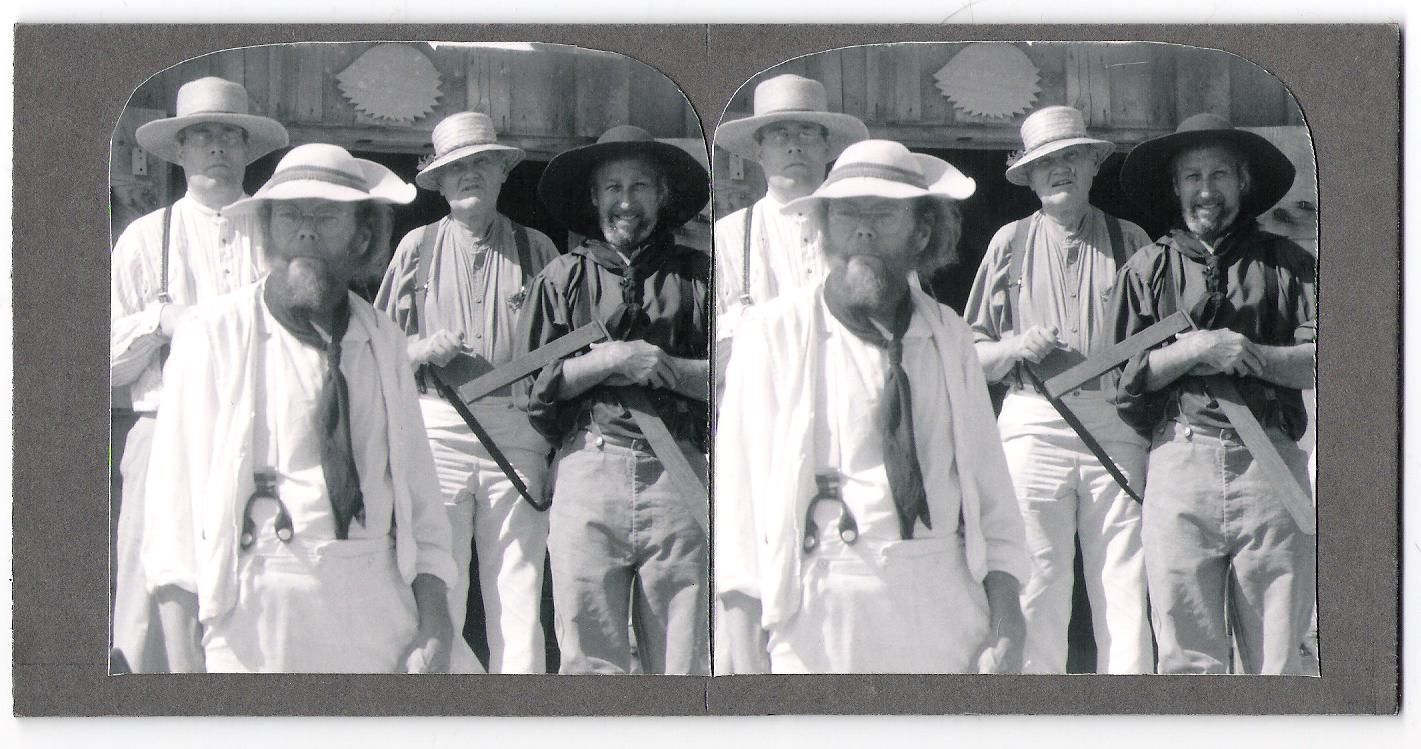 With the popularity of various reenacting groups, such as
colonial, frontier, Civil War era, etc there is also growth in the trades
demonstrated at these gatherings.
Blacksmithing is popular but there is an ever increasing number of
woodworkers who are re-enactors and are bringing their tools with them to
camp.
I know this is true because I receive numerous inquiries as
to the proper tools for a given impression.
The impression is the persona or character that one adopts and follows
through with almost religious fanaticism.
People involved in reenacting are very zealous in what they do and many
of them have little to do and nothing good to say about 'FARBS'.
Apparently the term FARB came from a re-enactor who when
confronted with a bad impression [read poor attempt at recreating history] he
responded 'far be it from me…' and
the term still stands for not being period correct.  Period correct is a very important concept
for re-enactors and living history interpreters.
This also translates into historic interpretation at living
history museums.  Museums which I
consider to be the best for teaching history, especially those using first
person role playing interpreters.  This
gets people really involved in history and they will come away with much more
information than if a docent just recites canned scrip.  This type of interpretation does take much
more preparation, but the benefits are well worth the effort put into the
effort.
Interpreting a craftsman in Colonial Williamsburg would be
different from a craftsman of the same period building furniture on the
frontier.  The furniture may show some
elements of sophistication that appear in fancier styles of the coast but their
tools were the basic tool set, the difference is the demand.  Everyone needed furniture on the frontier and
it was too heavy to transport so it was made at the edge of civilization in the
18th and 19th century.
A traveling or itinerant cabinetmaker would have a kit of
tools that were just what was needed to do the jobs at hand and nothing
else.  Weight and size are important and
tools were utilized for purposes not originally intended.  Patrick Gass' tool box was a lot different
from Duncan Phyfe's' tool box but both served their individual purposes.
We can learn much from the existing inventories, probate
records and other historic material to determine the type of tools necessary
for a particular interpretative impression but also logistics, weight size and
other considerations need to be incorporated when making decisions about what
tools would have been used.  It is better
to err on the fewer tool side as carrying that stuff around can be very
important when you are going over mountains.
Just because it was available doesn't mean that it was
necessarily used.  And many tools were
repurposed for particular applications.
Not that I would recommending doing this but I have seen examples where
an ax head had been lashed on a handle by a Native American to convert it into
an adze.  They also liked to heat up
rasps and files and branding the wood with that particular pattern.  And trade goods always included tools.
Also some ideas that were good at the time turned out not to
be so good.  A particular instance which was repeated 40 years later was that first experienced by the Lewis & Clark Expedition, the financing of which I will not get into at this particular moment, did not carry any handles for their axes or hatchets as they were sure they could find suitable hardwoods for their handles out West.
When attempting to make the wooden parts for their folding
iron boat [a good idea gone bad] they broke 16 [sixteen] chokecherry handles in
one hour.  Years later the western
pioneers did not take the wooden tool handles for their plows, harrows,
shovels, axes, etc on their exodus to the west in order to reduce the load on
wagons, and quickly learned there wasn't any available wood for handles and
informed future emigrants to keep their tool handles intact.
Site specific interpretation, with a personal impression can
be a very informative way to convey local and regional history to the general
public that really gets them involved far beyond a static museum exhibit.  And doing an interpretation with the
necessary, sufficient, proper tools, materials and techniques will help
preserve the past, which in this day is exceedingly more difficult.
Stephen