at the swap meet this morning, I purchased this for $2.00 from that hot nice lady that I think I have mentioned before.  Well I couldn't beat her up on the price, because when I picked it up she asked me what it was?
At that point, I knew it wasn't going to be expensive as for a cheap price, I would tell them.  I told her it was a casting of an actual milk weed seed pod.  Well I gave her the two bucks and walked away with this:
It is lined with purple fuzz (fake velvet stuff) and has some nice natural lines.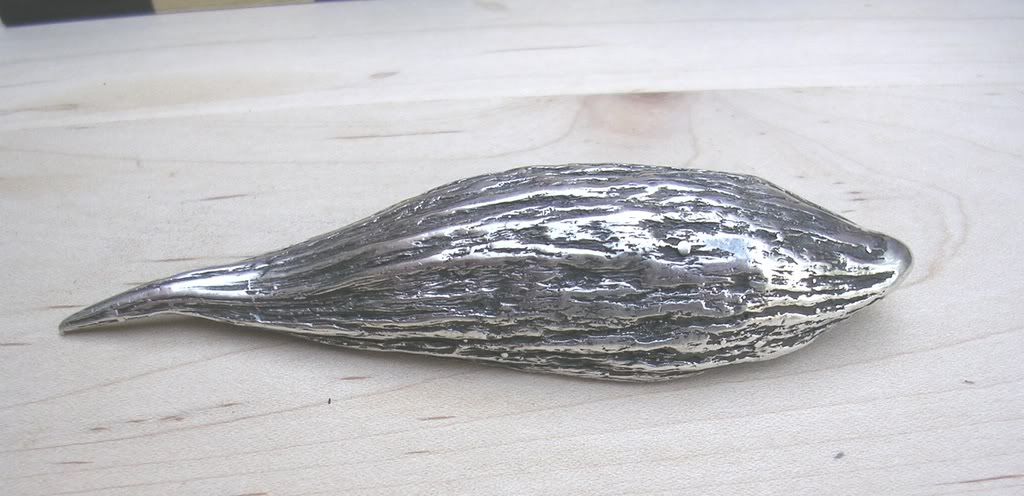 This was sitting in the bottom of a cardboard box and I knew immediately what it was.  After some conversation with the nice lady, I told her that this was fairly common practice to make castings of organic objects and mentioned that I had seen insects and other natural objects cast into silver.  I have a Sequoia cone cast in silver, little thing smaller than a hickory nut.  She got all concerned about the bugs being cast in plaster, then burned out and replaced with precious metal.  At that point I had to leave.
I hope it is not a Mead's Milk Weed Seed Pod!  It weighs about three quarters of an ounce, so it can be scrapped as junk silver for a profit.  But it is more valuable as a curiosity.
Stephen