Now that is an overstatement.  But here is what I did and here is why I did what I did.  To the bewilderment of many I took a rather inexpensive 'tourist' grade chisel and altered it into a 'Western' style chisel, well sort of.
As a friend pointed out, what I did was take a $30.00 chisel, spend $300.00 in time and end up with a $25.00 chisel.  Well I don't think it is that bad, but he did have a point.  He also pointed out that I couldn't possibly need more chisels than I already had.
Here is what I did, I bought an inexpensive 9mm Japanese Chisel with a laminated steel bit, just like (well almost like) traditional English, European and American chisels of the nineteenth century.
I then carefully removed the handle after asking on other forums how to do this process.  I followed the directions and when the ferrule/socket 'broke' off, I thought my whole idea was preposterous.  Then I was informed that is how they were constructed and that was to be expected.
Actually not having the socket made fitting up the handle easy as it was just a square tang.
I then ground off some of the hollow ground part on the flat of the blade, a typical Oriental method of surface preparation, for ease of sharpening, etc.  That unfortunately is on the hard (steel) side of the chisel blade, so It will be a while before I get it flat.
I did grind the soft top and removed the Japanese lettering.  While it doesn't look like a tanged Western chisel of the period, the bolster is way too big, it is none-the-less a laid steel chisel that kind of looks like an old chisel.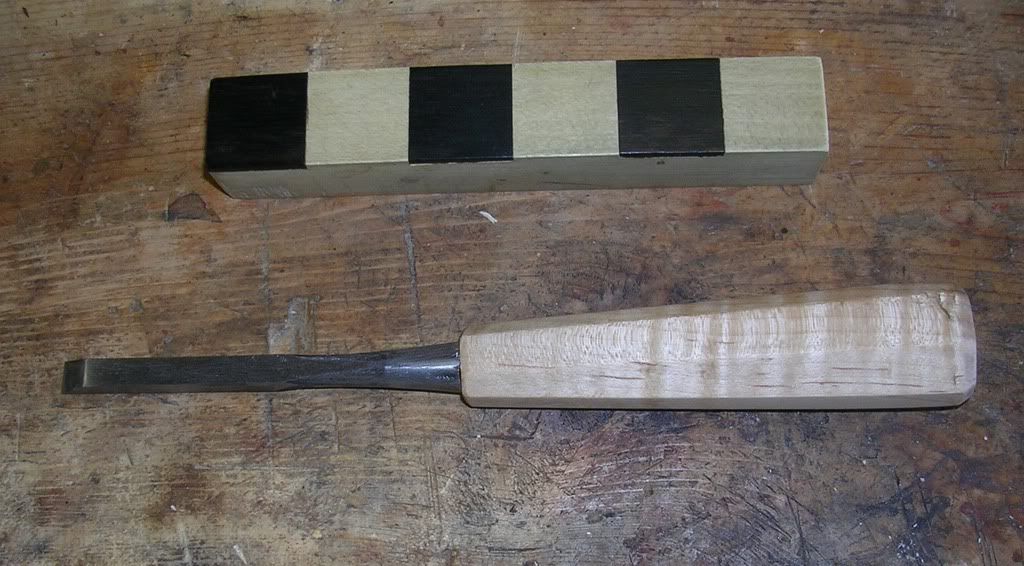 I do apologize to users of Japanese tools for this sacrifice of a perfectly good tool, but I want to assure you that it was done with a good heart.  These chisels are wonderful, you are very fortunate to have heirloom tools that reflect the heritage of the traditional craftsmen of the nineteenth century.  Here in the West, sadly we have no such personal connection.  Therefore I had to get the tool that most closely approximated a Western tool and 'alter' it to look somewhat like what my ancestors may have used.
 Is it a nineteenth century Western Chisel, no, but it is a laid steel chisel and I like that.  It is not quite right, but it is closer than any modern all steel chisel, which is just not the same thing.  I am making furniture from the early nineteenth century (and sometimes earlier), so I want to use the right tools, and this bastard tool is more right than anything else on the market today.
Would I pay good money for a proper laid steel Western chisel, Yes.  Even a rough blank.  If I can't get what I want from Occidental sources then I must look elsewhere.  Would I recommend that people give this a try, absolutely.  I will never again buy a modern all steel tool and I will replace all the ones I currently have.  I want the real thing, I want laminated blades.
Am I being unreasonable?  Me?  I think I am being very reasonable.  I want the same tools.  I can tell the difference when using hand planes with laid steel blades, I can also tell when sharpening them.  I am sure I can tell a difference in my hand between laid steel and solid steel blades when working wood.  There is a different feel, the mass is different, it seems to engage the wood better when starting a cut, especially paring.  The laid steel tools require less sharpening than the solid steel and the old tools have a feel to them.  I am sure this may all be in my head.
If I can't find old Western laid steel tools, I think that taking something close and making some alterations can at least give us something more closely approximating what was used in the past.  I like old tools, but they aren't making them anymore.  I need a reasonable modern equivalent and for now this is the solution.
Stephen