Well the first go round went off with only 50% failure rate.  The lower chisel rack with the sockets is fine, but I think I will re-do it a bit.  The upper one was a complete failure.  The slots don't work.  I lightly kicked the door when it was closed and heard a shower of chisels, so until I make a new one I scabbed on a piece of wood to retain them.
So I took the suggestions from M.Mike and Mitchell and decided to drill holes and add a few slots.  The hole in conjunction with the slot holds the tools much more securely than just the slot.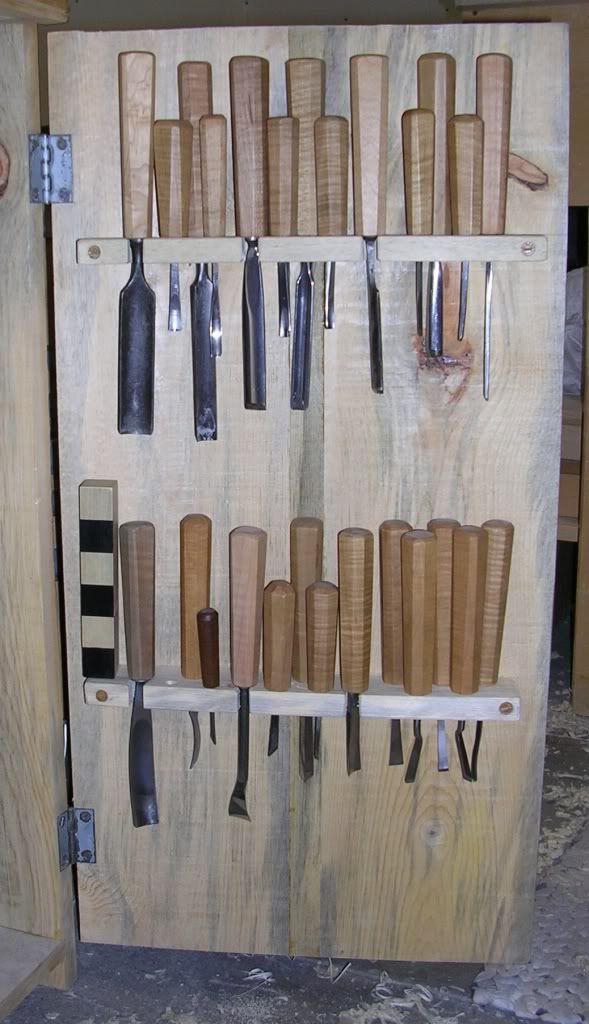 I will probably add some leather keepers on the slots if it proves necessary.  The only problem I have now is if, no when I get more chisels and gouges.  I suppose I will deal with that at the time.  There are an extra hole for a small gouge or chisel on this one and it is possible to add new holes.
While the arrangement looks compact and I will need to be careful when removing tools from the lower racks, I may put a flap of leather or some other safeguard if I should bleed just once.
I have looked at other racks and the hanging kind or the drawer solution are the best as there is little chance of damage to the sharp ends.  Racks that hold the chisels or gouges by them resting on their cutting edges is a bad idea.  Even if a soft padding of cork, soft wood or leather can still get stuff on it that can damage the cutting edges.
So, I will re-make the upper chisel rack and post a final post, with the Chisel problem solved.
Stephen