As opposed to Camera Obvious, my attempt at humor.  This is a rather ancient device, I am sure invented shortly after optical lenses were developed (not quite true).  Well, I have always wanted one, but they are not readily available (not quite true).  I would also like a Camera Lucida, but that is another story.
Well, today while at my local swap meet, I bought this.  And while it is not a camera obscura, the lenses are what I need.  This was probably made in the 1920's and is an opaque projector.  Called a Postoscope – Display Artists Projector.  The mirror is not a front surface mirror, drat, however the optics are good enough.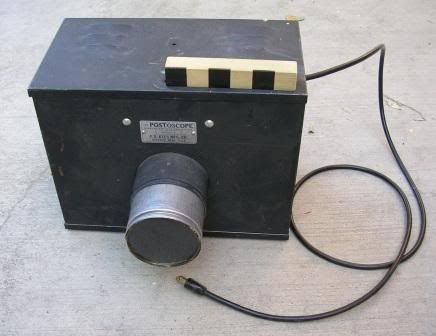 Fancy, right?  Nice wrinkle finish and a couple of 150 watt bulbs, the handle is missing, but that is not what I need.  At first I couldn't get it to focus for my intended use, as it was intended to project an image a fixed distance.  I needed it to focus on infinity (or as close as is theoretically possible, for those physicists among us) and it didn't work.
I then consulted my friend Sir George and we discussed the objectives of my quest to turn these lenses and mirror into a camera obscura.  I explained that the lenses were different, one is flatter on is convex surface.  He being the brilliant mind that he is, suggested that I turn the lens tube around.  Well, that clearly brought everything into focus.
So my $8.00 investment was a good one.  I may use the lens tube as it is, but I am fairly sure I will make a wooden replacement, some nice mahogany veneer laminated into a tube.  Now you may ask what the hell is a camera obscura and why am I interested in making one?  Good question, glad you asked.
The camera obscura in an archaic instrument, the originals were actually probably invented before optical lens and shortly after the invention of the mirror, as this can be done with a pin hole, no lenses needed.  The idea is that it captures an image and projects it onto a piece of paper and that image is then drawn on the paper.  This works overhead or from beneath and was developed into a variety of different drawing appliances.
It looks like some of the Masters may have used these to aid in their paintings and illustrations.  It was popular in the late 18th and early nineteenth century and still continued in popularity after the introduction of the photographic process in the early 1840's.  Samuel F.P. Morse, yes the inventor of the telegraphic code, among other things brought the Daguerre process to America.
This is on my list of things to do, however as for now I am busy enough, but will fiddle with it from time to time, as it is not terribly complicated, well it shouldn't be, but I may add a few flourishes as I think this is a tool that I will use on a regular basis.
Speaking of the local swap meet, the lovely lady was there again today, it was a pleasure to see her, although I didn't buy anything from her.  I walked up behind her as she was unloading stuff from her truck and said "We have got to stop meeting like this!'.  She got a chuckle out of that and I went on to tell her that she is becoming a celebrity on my blog.  She wasn't sure how to take that and another friend who happened to be at the same place said something about the pictures posted on the web, throwing me under the bus.
Well after some explaining the actual context in which she was referred to was on the up-and-up and there was nothing untoward, except beating her up on prices.  So I gave her my card with the blog address, so she can rest assured everything was proper.  She then told me her name, but she has requested anonymity, so she will just be the nice lady at the swap meet.
Then after I had gone through the rest of the stuff and was on my way out, I went by her place and she said she had some other tools including a Miller Falls wooden tool box and some blacksmithing tools she wanted to sell.  She told me where she lives, not far away and asked for my phone number.  I like it when pretty ladies ask for my number. 
What?
Stephen