After three days of looking through boxes (I found two more chisels), I found what I was looking for, that being 4 pieces of wood.  I had already shaped them and run the rabbit, so I didn't want to make them again.  They are for a Wall Clock I am building for a local couple.
I mitered the corners then toothed them, added some liquid hide glue and used the simplest clamp in the world, a rope and 8 blocks of wood.  Alright it is not the simplest, that would be a rope and stick tourniquet, but this is a close second.
Now, I did use a modern tool to do the miters, these are pine pieces so I actually did all of the mitering on this.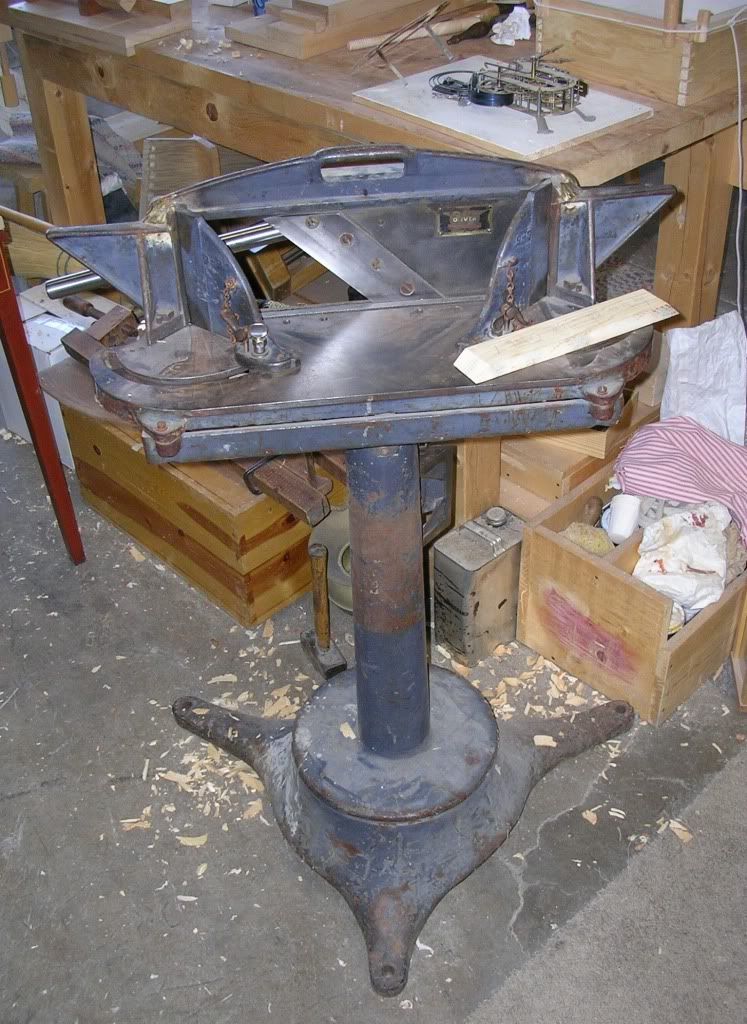 This is an Oliver No. 9 1/2 Miter Trimmer, with cast iron stand and two additional miter blocks for doing compound miters.  Looking through an old Oliver manual, I came across a technique using this tool to do the cheeks on tenons, can't wait to try it out, looks like a clever idea.
I will reinforce the corners of the miters with feather slips as I don't want to add linen to the back of the joints.  Then I will paint and grain it to look like crotch mahogany cross banded veneer.  I am going to put a gold stripe on the back side of the glass around the edge.  I still have to number the dial, the movement is an original skeleton movement with an adjustable pendulum, has a gong and strikes the hour and half hour.  It is a 14 day movement.
I have already built and glued together the box (clock case) and the back is also fit in but is not nailed in yet.  I have whitewashed the inside of the clock case which is through dovetailed.  But they will not show as I will paint and grain over them.  Will need to cut the gain for the hinge in both the door and the clock case and make a retaining hook to hold the door closed.  I will also make a hanger, so it can be hung on the wall.  It is deep enough to sit on a shelf or mantle if they prefer.
Stephen