Here are a series of photographs to show the nature of this small repair.  The birch Dutchman had been fit and glued into place and allowed to dry overnight.
The next day with the clamp still in place I began to shape the wood down to match the original turnings.  I did the top first which was a problem as the handle of the chisel was too long and the seat of the chair interfered with some of the work.  I also used a small chip carving chisel to remove the excess.
Then I focused my attention to getting the bottom side of the bead shaped.  This was easier as I was able to get full use of the chisel.  But under the arm it was tricky and I used a combination of the chisel and the knife to get it to shape.
 It was useful to look down the length of the turning and see the protruding new wood as after I had it first shaped and looking good, by sighting down the turning I saw that my bead was too fat.  It also looks bigger when it is white and smaller after it is finished, it is an optical thing.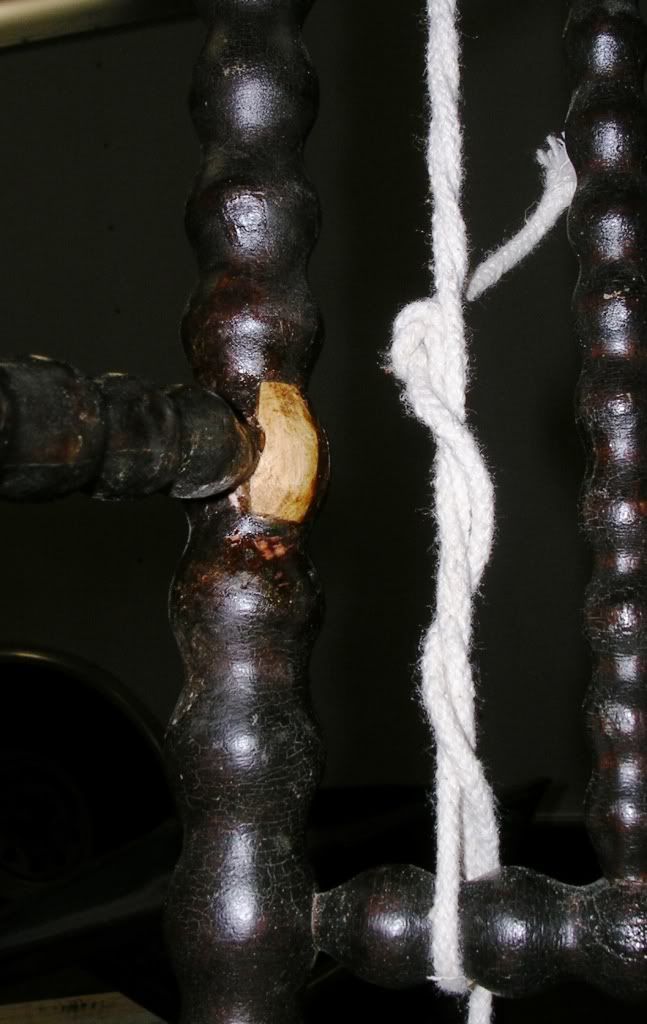 I did some minor filling with hot shellac stick, then sanded and gave it a coat of liquid shellac.  I then started with the pigmented shellac to darken the color.
I started with burnt umber then followed with black iron oxide.  I then shot on a couple coats of shellac, followed by some vigorous brushing and it was done.  Well I thought, upon inspection I noticed two small holes that I must have missed when using the hot stick.  Instead of firing up the alcohol torch, I went to the grease pot and scraped out a bit of beeswax/tallow mix and pressed it in the holes.  A touch of black iron oxide, another shot of shellac and it was done.
Stephen
P.S. the is my 200th post since starting my blog!