I was just too lazy to make a sticking board, I should make one some day but I so seldom do sash moldings.  However I need some, so I had to make it.
I set it up on the edge of my workbench, having removed the crochet from the front edge as it interfered with the fence on the rabbit plane.  The three holdfasts are holding the 'clips' I made on scraps of wood that hold the stick on the very edge of my workbench.

I used a mortise gauge to mark the rabbit as well as the front to mark the narrow front edge of the sash molding.  The molding in the middle of the bench by the shavings is the finished profile.  What I noticed when I was planing both the rabbit and the front is that the score lines produced a bit of fuzz as the plane gets down to the line.  Interesting method of telling when you are done.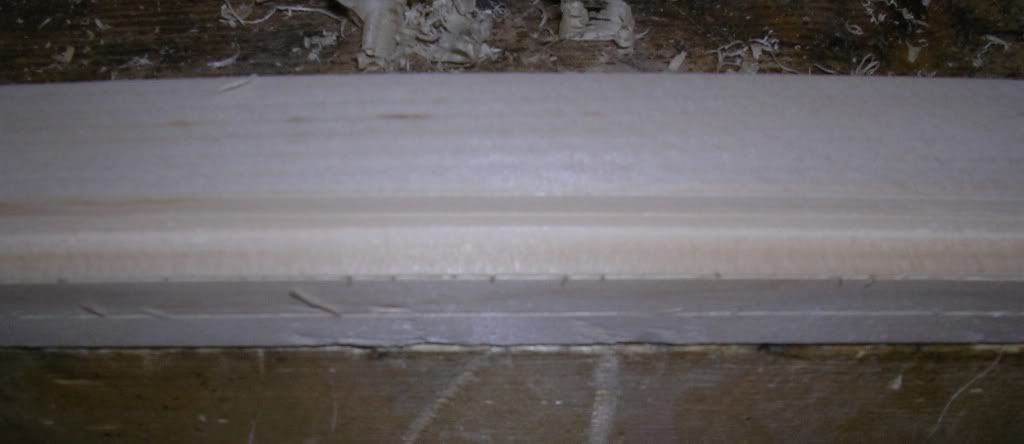 I made a couple of 'clips' to hold the molding by the rabbit once it was shot.  I also discovered that the clips hold the molding from the other side once it is formed, but there isn't any reason to, unless the rabbits need to be worked on again.
I started out with a nail stop as the regular planing stop doesn't work on the edge of my bench.  The nail was alright but bent and then was in the way.  So I removed it drilled a hole, made a countersink and inserted the screw.  It worked alright but the stick would occasionally not catch.  So I put some decorative notches around the top with a triangular file.  The end result was much better.  And when it is not in use it is screwed down to below the bench surface.  But handy, just unscrew to any height and it is ready to go.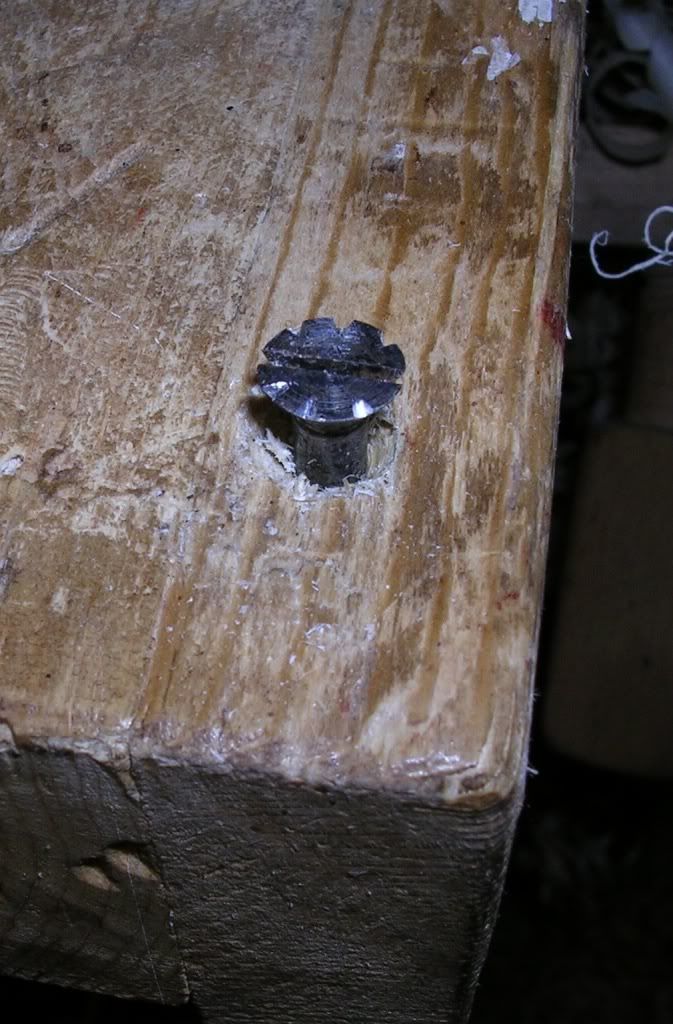 While I usually don't use metal planes, I did use this Stanley No. 289 to do the rabbits.  I also used a skew rabbit plane.  The wooden skew worked great but it needs to be reground as it has a nasty secondary bevel that just looks bad.
I am still unsure where my I. GREEN moving fillister plane is, it is in one of those boxes I have yet to unpack, or I would have used it instead of the Stanley.  But the Stanley does a good job.  One thing I did notice is that the nicker needs to be in the safe position so it doesn't nick the board, as it is with the grain so not necessarily.  I started with the nicker out and found that it road over knots, the nicker lifting the plane at the hard spots.  Once the nicker was out of the way the plane worked just fine.
Stephen