I am not sure why I said that other than I can.  And it is not like I need another ironing board, I have a nice old smaller wooden ironing board from the late nineteenth century.  And this one also dates from the last half of the nineteenth century, but is earlier.  It was at the local flea market and I just couldn't pass it up for the price.
It is larger that my old one, measuring 15 1/2″ wide, single board by 60″ long and goes from 27 inches on its lowest adjustment to 35 inches tall at its highest setting.  It has power planer marks, the ends are cut with a bow saw and the edges finished off with a hand plane and perhaps a spokeshave.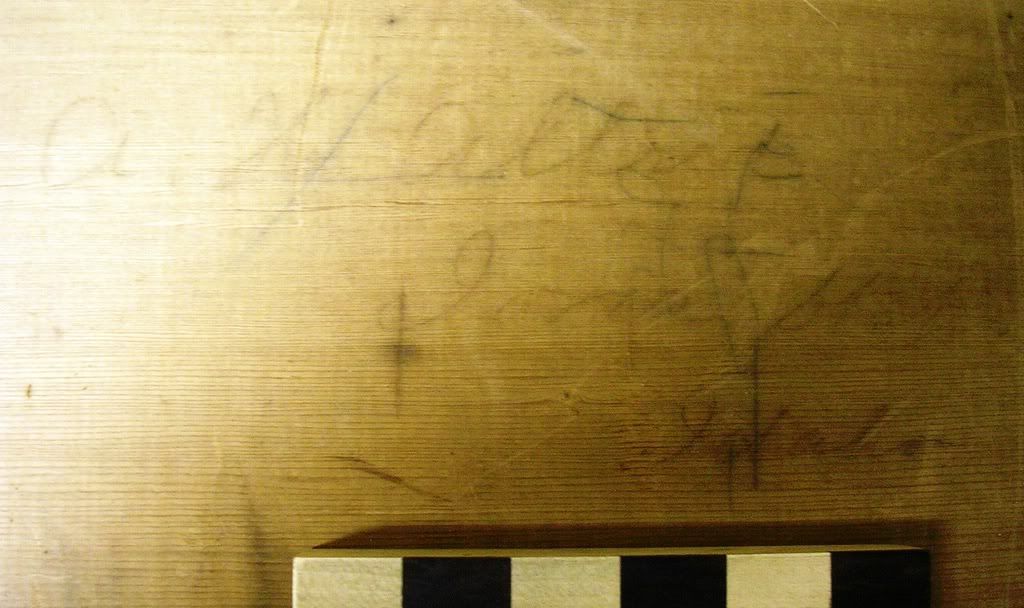 This signature appears on the top; A. Waltrup Iona ????? Idaho, and is written in pencil.  It was originally put on the bottom as the top has been reversed, hinge shadows on the top.  I do not know if it is the maker or the owners name.  Square nuts and hand made iron hardware.  I removed 4 nails, one staple and seven carpet tacks from the edge of the top.  The original covers were tacked on, there is evidence of several coverings on this board.  (Iona, Idaho settled in 1884)
The legs are tapered thinner at the ends, the stretchers are shouldered and wedged in place.  There is a reinforcing cleat on the rear (underside) of the top secured with two pointed screws.  The top is split on the end with the cleat and one stretcher is also fractured, but will be easy repairs.
Considering its age it looks like it has only one scorch mark on the top.  I seldom use the one I have for ironing but it is a nice horizontal surface to accumulate crap and this one has more square footage, so it will replace my small one until someone offers me enough for this one.  I will not mention what I paid for it but I didn't even beat the guy up on the price.
It is made of clear pine.
Stephen