Early packaging and shipping containers have always fascinated me.  This is one from Eric Sloan's Reverence for Wood and he shows a couple of other versions that I am going to make.  His examples are basswood, this one is maple.
A friend of mine has some 1/16″ thick maple veneer and has given me some.  I scored a line, cross grain in the wood with a sharp knife.  I then used a V-shaped chisel, but next time I will use a straight chisel and cut it twice per 'kerf'.  The v groove in the wood is where the wood bends.  I also use a bone folder to crease the wood in the kerf after I got the wood wet.
After it was wet, I bent it, next time I will heat it up, although I did use hot water to soften the wood.  Once it was wet, I set it with clothes pins to hold it until it dried.  When I did the layout of the box, I used the compasses to make sure the box was square.  I then cut the bottom to fit.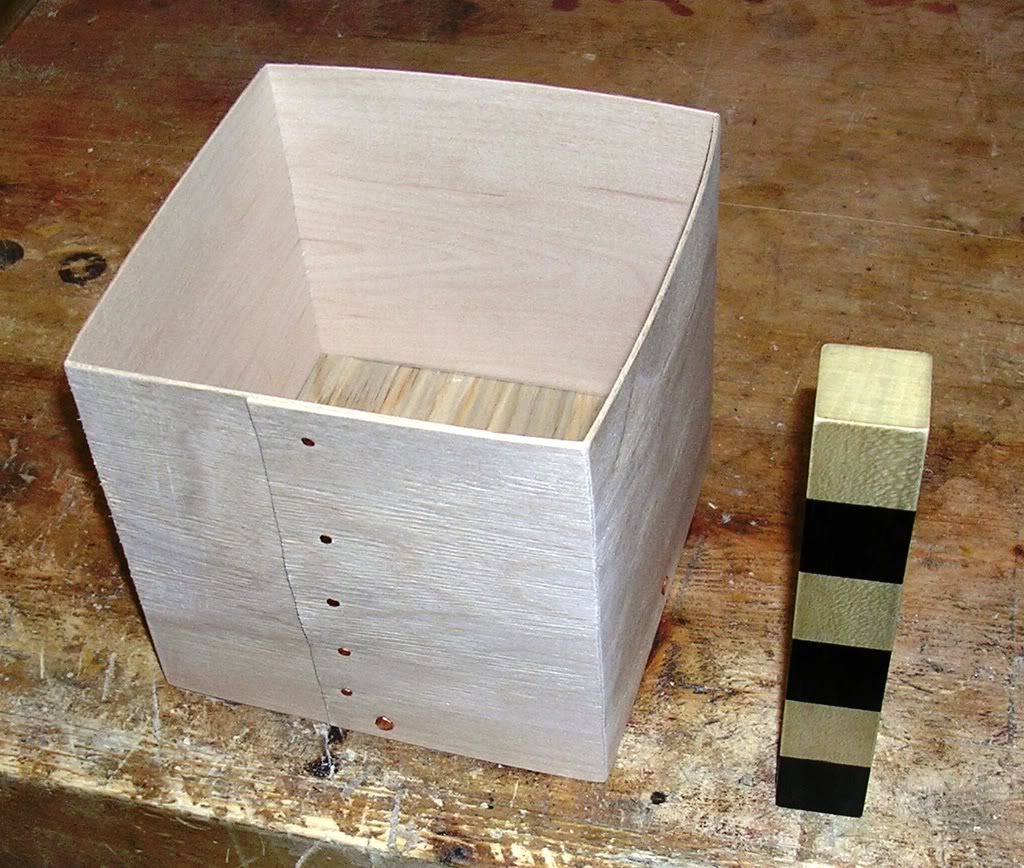 After it dried overnight, I fit up the bottom and used small copper tacks to secure the box together and larger copper tacks to secure the bottom.  The thin veneer was first pierced with a square awl, then with a steel plate backing the joint the copper nails were hammered fast.  When the tips of the soft copper hits the hard steel backing plate they curl and clinch the wood together.
A simple box, I am going to make some more.  They were probably disposible during their time period.  I also have in mind a bent wood American Civil War canteen.
Stephen