Here is an after picture, which looks exactly like the before picture as the only restoration work was done on the inside.
The original is made of poplar, the legs and hub are of walnut, the spokes are chestnut and the ends are maple.  There is maple and white oak on the clock works.
As with most clock reels something happened to cause binding and invariably a couple of side grain teeth are broken off one or more of the gears.  Sometimes the worm gears get damaged but by and large the big problem is with the gear teeth.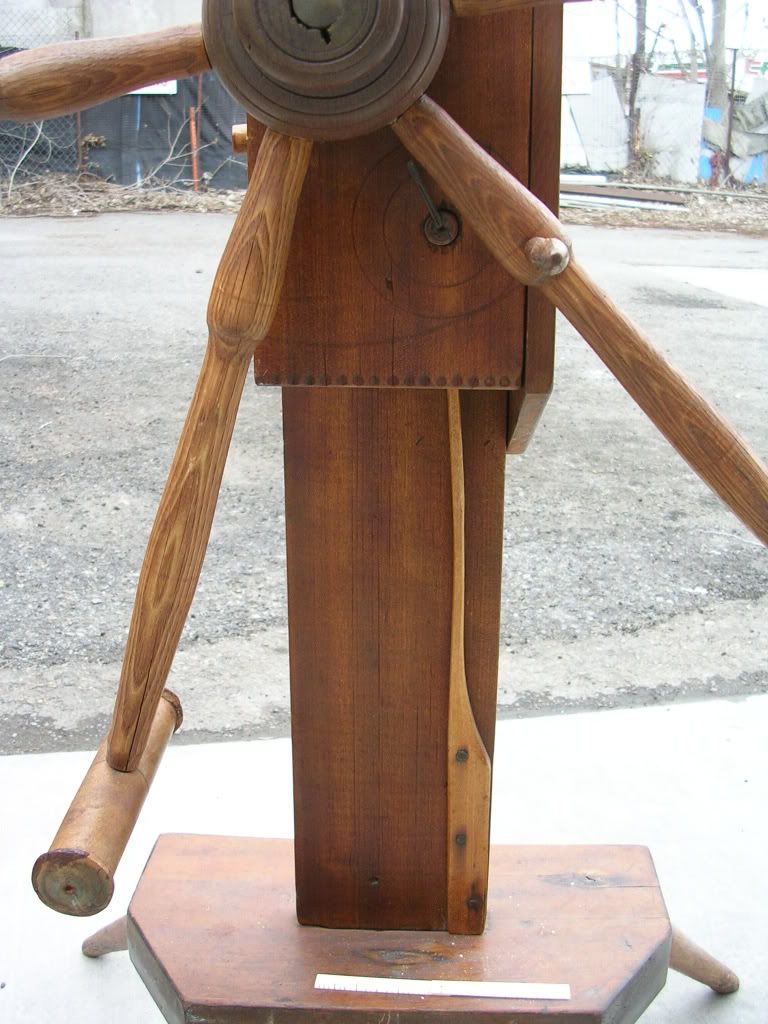 The 'weasel' on this particular reel is made of maple and makes quite a 'pop'.  Yes that is where it comes from.
Here is the gear prior to restoration, showing two teeth that are missing and two teeth that are damaged.  I determined that I should also replace the damaged teeth as well.
I followed the lead of the famous English Cabinetmaker/Clockmaker John Harrison and put the grain of the teeth in their best advantage.  The gears failed because of the weak side grain of wood.
Here are the interior workings of the clock reel.
This is the repaired gear in place in the mechanism.  I noticed that during the restoration that the top and the board on the right side are replacements, probably made of cypress, but I am not sure.  This caused the problem as the hole for the mandrel was too small, bound up and caused the damage to the teeth.  When the teeth are missing the clock mechanism will not work and the weasel will not pop.
I slightly enlarged the hole for the mandrel put it in place and it worked just fine.  The reel functioned perfectly and made its pop at the proper time.
Stephen