I just picked up this Meat Saw at the Swap Meet.  I am not sure why, but I have always wanted to own one and now I do.  It is one of those saws on my list, now for a good tooth pattern ice saw and that list will get shorter.  The small boy attending the space where I bought this said it was $5.00, I said $4.00, he looked around for an adult then nodded yes.  I felt ashamed for an appropriate amount of time, then picked up a small rusty float for 25 cents.  It was a good day.
The back is bent, it was originally straight, the wing-nut has been replaced, the blade has alternately set teeth and sharpened crosscut.  There is also residue of flesh and bone near the blade at the tensioning nut.  The eye for the tension bolt is forge welded.  The end slot appears hand cut as it is just slightly off center.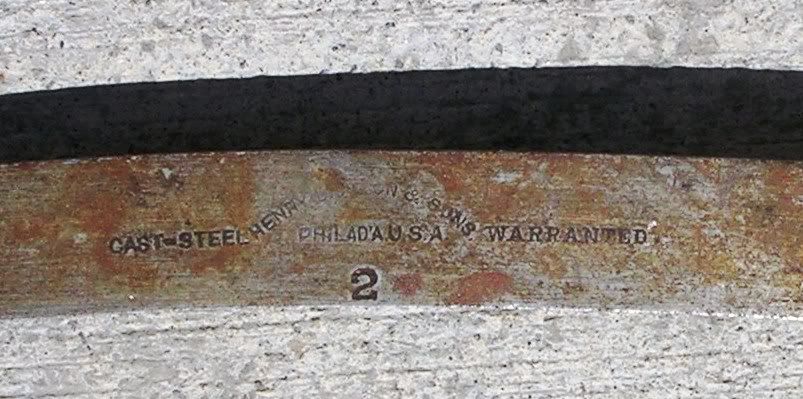 I presume the 2 stands for 2 feet as it is that long.  Beech handle and saw bolts and caps.  Warranted Cast Steel, made in Philada USA by Henry Disston & Sons.  I hope some Disston collector must have it and I want more than I paid.
This last week I was in need of a small semi-diameter (Moxon influence) scraper to remove any risings left by the gouge.  This is for the fine hollow thread grooves in tatting shuttles.  I then shaped up a set as I still had some saw blade left over from the tenon saw project.  I cut them up with metal snips and shaped them on the grind stone.  I then whet the sides and draw-filed the radius'.  I then turned burrs on the convex edges.
I made a wallet of of hair cell pigskin, sewn with waxed linen thread.  The flap is to protect the burrs turned on the convex edge, on both sides.  I still need to make a secure strap or button to hold it closed.  It will keep the small scrapers in one place and protect their cutting edges.
I am sure these will get used and they were easy to make.
Stephen