A couple of years ago I was asked to make plans for a small bench top turning lathe.  It is not that I am slow (well that may be true), but I just couldn't come up with a final design until after I had read Mechanick Exercises section on Turning that the break through happened.
I am preparing to offer plans for a Bow Lathe, influenced by Moxon's work as well as a small iron (& brass) watchmaker's lathe which I own.  This lathe however is made entirely of wood, hardwood such as maple is recommended, with the exceptions of small thick leather washers used to protect wooden parts.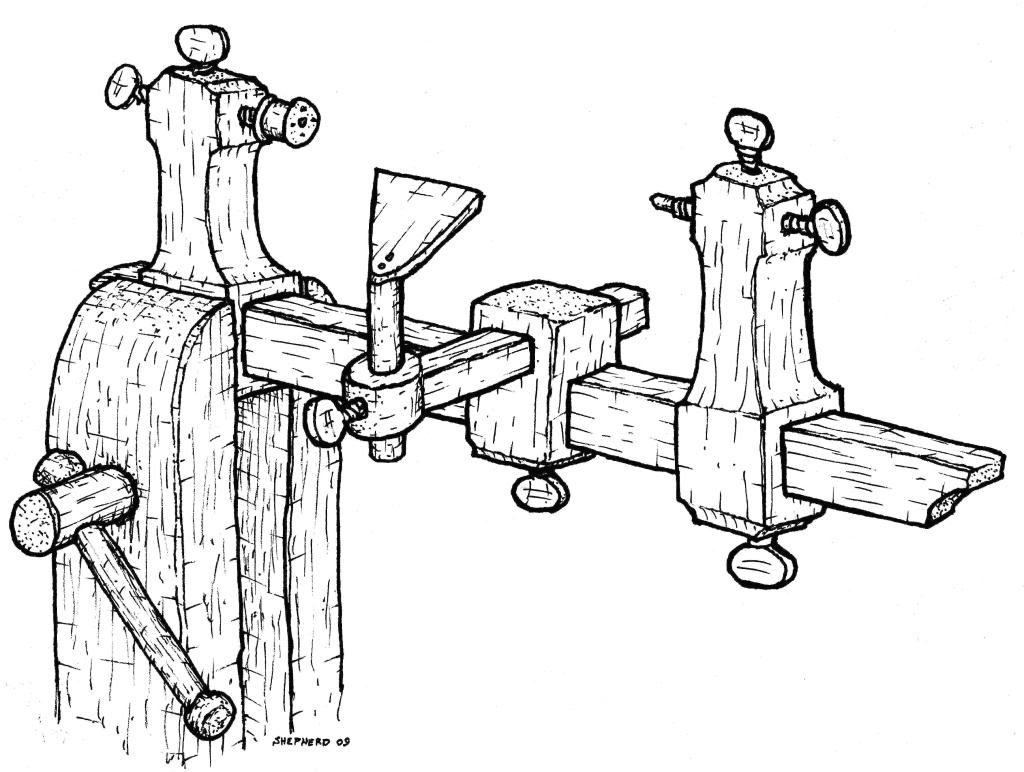 This is from the drawing of the plan.  The parts are drawn full size and is easy to make.  The only speciality tool required is a 1/2″ wooden tap and die set to make the thumbscrew and pike/screw.  The lathe can be used to turn between centers or mandrels can also be used to hold different stuff.
 All instructions and directions for construction are included.  The full size drawing can be used to make patterns or templates to make the necessary parts.  While a lathe is a precision tool, you can turn between two nails in fence posts, so one should not be intimidated by the thought of building a turning lathe.
For small work there is nothing like a small bow lathe.  The tool only cuts on the 'pull' stroke and it rides on the off stroke, but once you develop the rhythm it is easy.
I am working on the instructions/directions sheet as we speak and hope to have the plan set for sale, soon.
Stephen