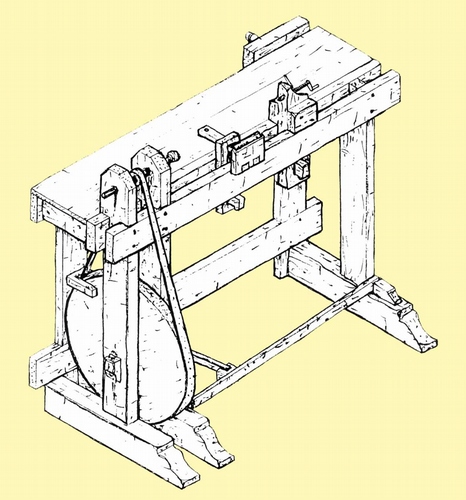 Hardware for the 1805 Turning Bench has been difficult for those people building this treadle lathe to find, so after repeated requests I am pleased to offer the complete hardware package for sale at a very reasonable price.
The hardware made to the specifications of the plans and include the headstock mandrel with a slight variation from the old plans, newer sets of plans will include the change.  The center part of the mandrel is 1 1/8″ in diameter; 1″ on the original, this change gives a shoulder for the bearings.
The flywheel crank is as specified on the plans and can be keyed to secure on the wheel and is 3/4″ in diameter.
The tailstock crank and locking nut are also the same as on the plans and the square nut is inlet into the wood of the tailstock to prevent it from turning.
Now people will be able to easily complete their own foot powered treadle lathe with this quality hardware.  You can order it from the Full Chisel Store.
Stephen