I went on an adventure and took a quick tour of the Beehive House, Brigham Young's residence in downtown Salt Lake City, then ventured over the the Museum of Church History and Art with camera in hand.
This is a tool chest belonging to Brigham Young which he used when he was a carpenter in the mid nineteenth century.  After 1844 when he started leading the Mormon Church, I am fairly certain he didn't do much carpentry work as he was a bit being busy as the Territorial Governor, Indian Agent and the President of the Church (Church of Jesus Christ of Latter Day Saints).
Young was from Vermont and while I couldn't get close enough (yet) some of the tools may be English or European but I am sure some of them are American made.
The pad is missing from this brace, one of two, the other looks like  to be a Spafford style iron brace.  Protecting his tools many of them has his distinctive brand 'BY'.
Here are the tools, numbering 20 pieces, although there are a couple of others in other museums.  Nine hand planes, two joiners, one smoothing, one rabbit, one plow and 4 molding planes.  One spokeshave, one marking gauge, one mortise gauge, one pair of compasses, one square, two bit stocks, one wood, one iron and two twist augers.  One awl handle and one large mallet.  The chest has 4 separate tills, some of which are missing dust lids.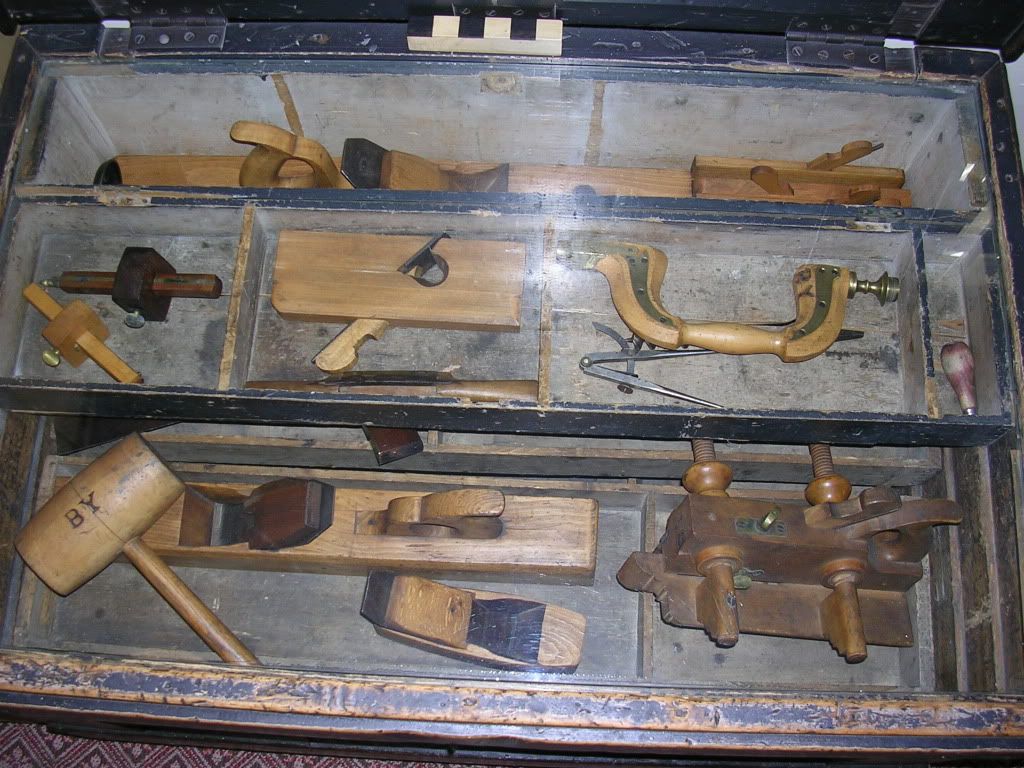 I will be doing some further research into this tool box as its history is well documented.
Stephen