I don't know if this is obtuse or acute but it is a matter that I must address.  I have made a number of 45/90 degree triangles for drawing and layout work especially on miters to be very useful.  I had always thought that the 30/60 degree triangle was not of much use.
But lately when doing a lot of work with compasses and dividers and after doing some research, I decided to take a new look at the 30/60 degree triangle.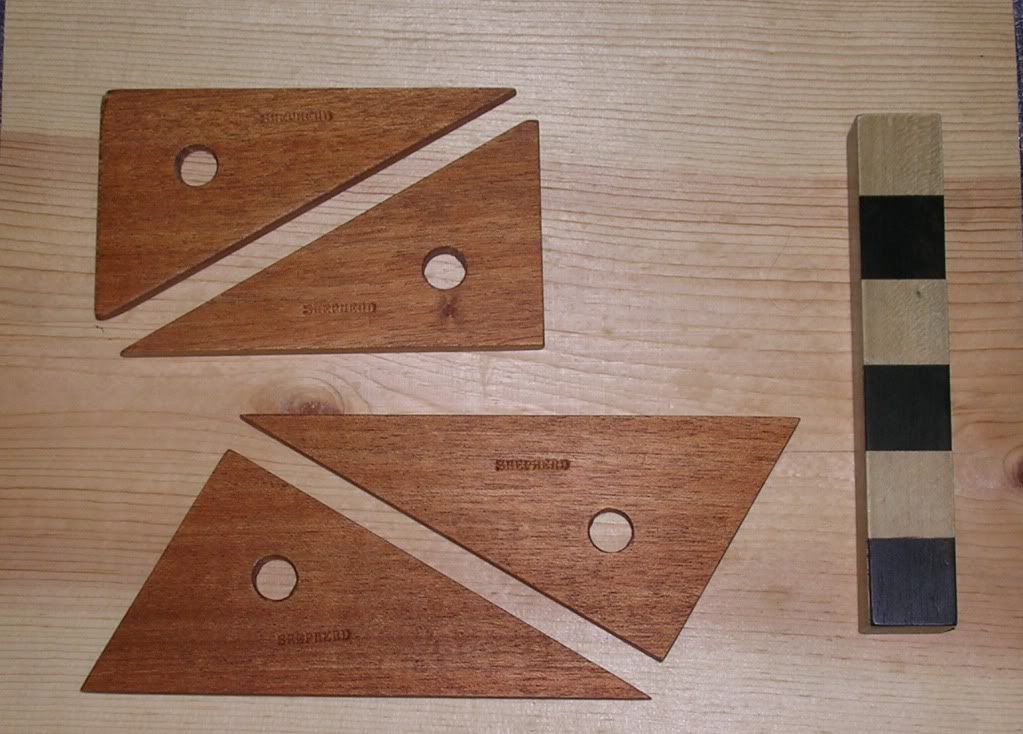 Here are a couple of pair, while a single triangle of this configuration is somewhat useful, two of them has got to be twice as useful.  Then after looking at the first smaller set, I realized that I could make a larger 'pair' by adjusting the orientation on the piece of mahogany that I had.  So I made a couple of more.  Not that I need four but now I have a couple of pair, I just use two at a time.  I will keep a set at home for layout and drawing and another set in the shop for the same purpose.
Making a precision tool takes a little time.  I cut out the blanks with a rip saw, even the crosscut areas but that is a different post.  I then used my Moxon Smoother to true the edges while holding them on a shooting board.  This required a lot of hand pressure to hold it in place as the points did not engage the stop on the shooting board.  I kept checking the angles and when I was close I checked for straightness along the edges.  Once they were to the proper shape I scraped the surfaces with a card scraper, drilled the holes (two triangles clamped together) with a Duck Bill Spoon Bit.  In both cases the drill bit did an excellent job even the exit hole was clean.  I then chamfered the edges of the hole, stamped in my name and gave them a coat of linseed oil/turpentine.
When the two are placed in conjunction with each other along their hypotenuse or along the 90 degree sides then they produce parallel edges.  And these can be adjusted to various widths.  I also have a parallel ruler that will do the same thing but that is all that it does.
Another interesting thing about the 30/60 triangles is that if placed in one configuration 6 triangles form a circle, in another configuration 12 triangles makes a circle.  I don't know why I find this so intriguing but I do.  I should have paid more attention during Geometry class in High School but math was not my strong subject.
Stephen