This is one of a set of chairs I am repairing for some friends of mines friend, I actually have never met this client.  It has a bamboo motif with machine woven cane seat.  Someone stepped in the middle of this chair.  On a side note: do not stand on ANY chair, they are made for sitting. 
My six word epitaph will read: Keep your feet off the furniture!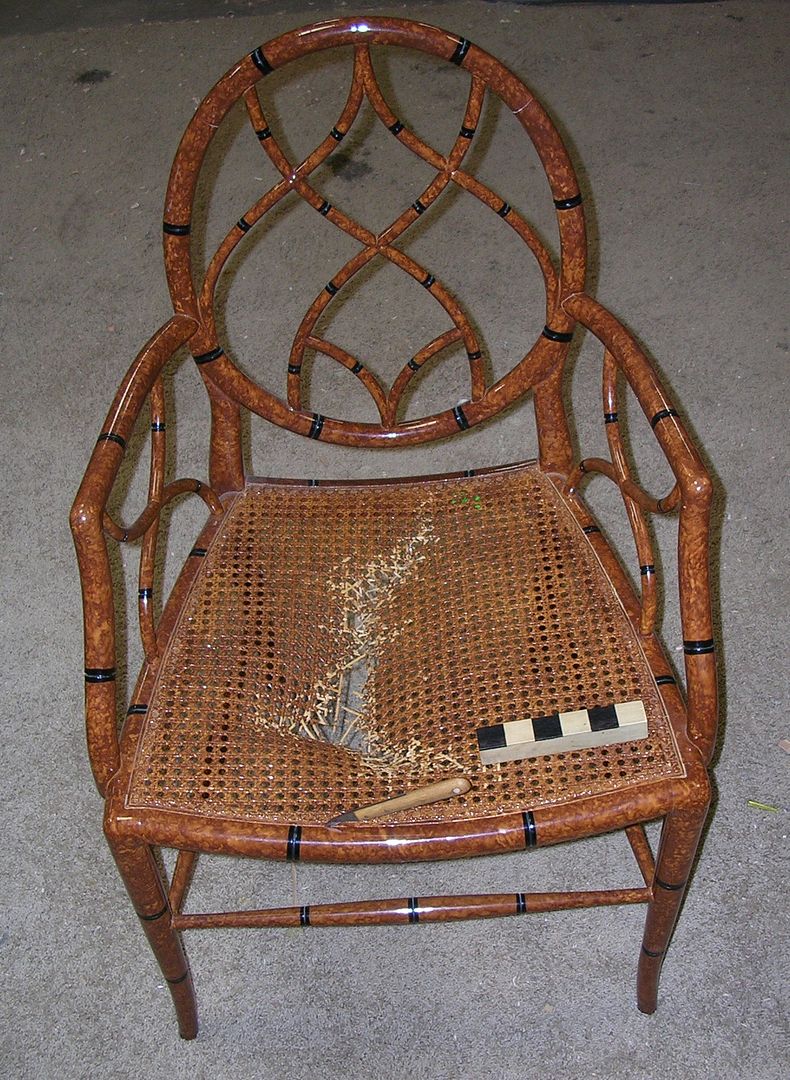 The first thing is to make a cut around the outside of the spline that holds the woven cane in place.  As you can see the mottled finish continues onto the caned seat, this I will have to replicate when I put the new seat back in place.  My friends ordered the machine woven cane and spline, so I didn't have to fuss with that part.
With this type of chair the hardest part is removing the old seat and this one proved to be obdurate.  They used plenty of white glue to fix the cane in place.
After I scored around the outside of the spline to give a clean line and not chip the finish off in the wrong places, and there were a couple of chips that will need attention when the finish is applied, I cut an X in the old cane bottom from corner to corner.  I then used a 1/8″ chisel to remove some of the spine, lots of glue it was a nightmare.
I then ripped out the seat bottom and turned my attention to removing the rest of the spline.  Once I had chiseled out enough but not all the spline and captured cane, I filled the groove with water to soften the glue.  I then scraped out more of the dross and put more water in the groove.  It took 4 applications of water to finally remove all of the old white glue and debris.
Needless to say I will use Hide Glue to replace the cane making the next guys work much easier.  Overall I spent about 3 hours removing the spline.  I will have some time next week to put on the new  seat bottom.  I will soak it in water and glycerin until soft then glue it in place and remove the excess.  I will show the process as it gets underway.
Then I will do the touch up work and make the seat match the rest of the chair.
Stephen