I use unbacked saws for a variety of reasons.  They are much lighter than backed saws and the old steel in these saws (made from old damaged saw blades) is good and at this size doesn't need a back.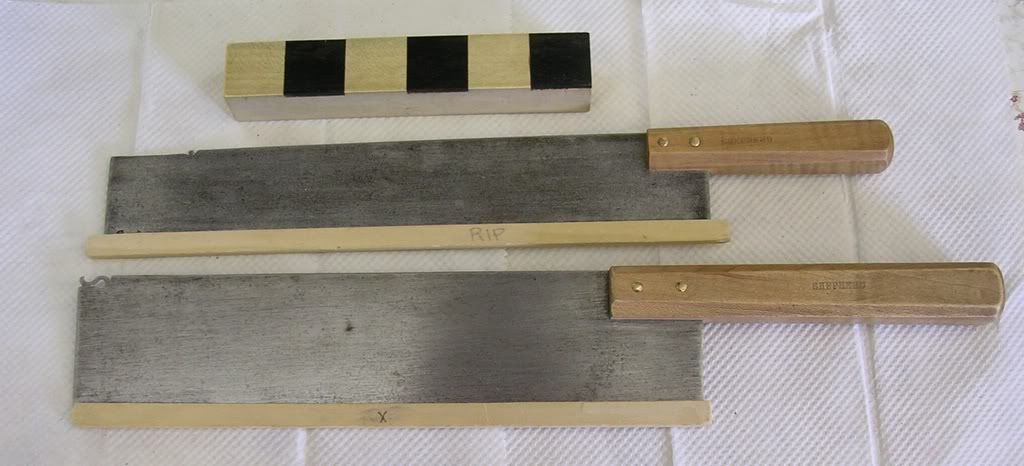 The upper is sharpened to rip and is a bit thicker and stiffer blade and the lower is sharpened crosscut.  Note that the tooth guards are held on without a string.  And note the keft starting nicker nib on the ends.  The upper one is purely functional the lower one a little more decorative and just as functional.
I like these saws because they can do things like this:
I place the long leg on a thin slip of wood and use the unbacked crosscut saw to level the legs.  This is a reproduction settee and the center legs made the settee teeter and I had to cut the back leg twice and the front leg three times to get all 6 legs on the ground at the same time.
I cut in from both sides and you can tell when you get through as the saw stops from the downward pressure of the leg.  This technique also works on tables and I do this regularly (if my chairs are not square) on chairs.  It is important to have a true area of a workbench, a truing board (one you know is flat) or on a cast iron table.  I once owned a printers composing table, perfectly flat iron table that worked great for truing up furniture.
This could not be done with a backed saw that easily.  And while I do own two backed saws, a nice old Disston with a new handle and a small rosewood handled Gent's saw.  The latter one with real fine teeth I will keep, the old Disston tenon saw is a lunker I am going to sell or trade.
I had previously used backed dovetail saws but the back was always getting in the way so I made saws without backs (thicker blades), they work exceptionally well and I have no intention of going back (pun intended).
Stephen