There was a request for pictures of the toggles on my haversacks.  So here are some of my toggles.  The toggle is interesting, in that they are buttons with a lever (well two levers), they are a button that does work.  Toggles are buttons that don't come un-done or 'unbuttoned'.  And toggles are much stronger than buttons and in some cases stronger than iron*.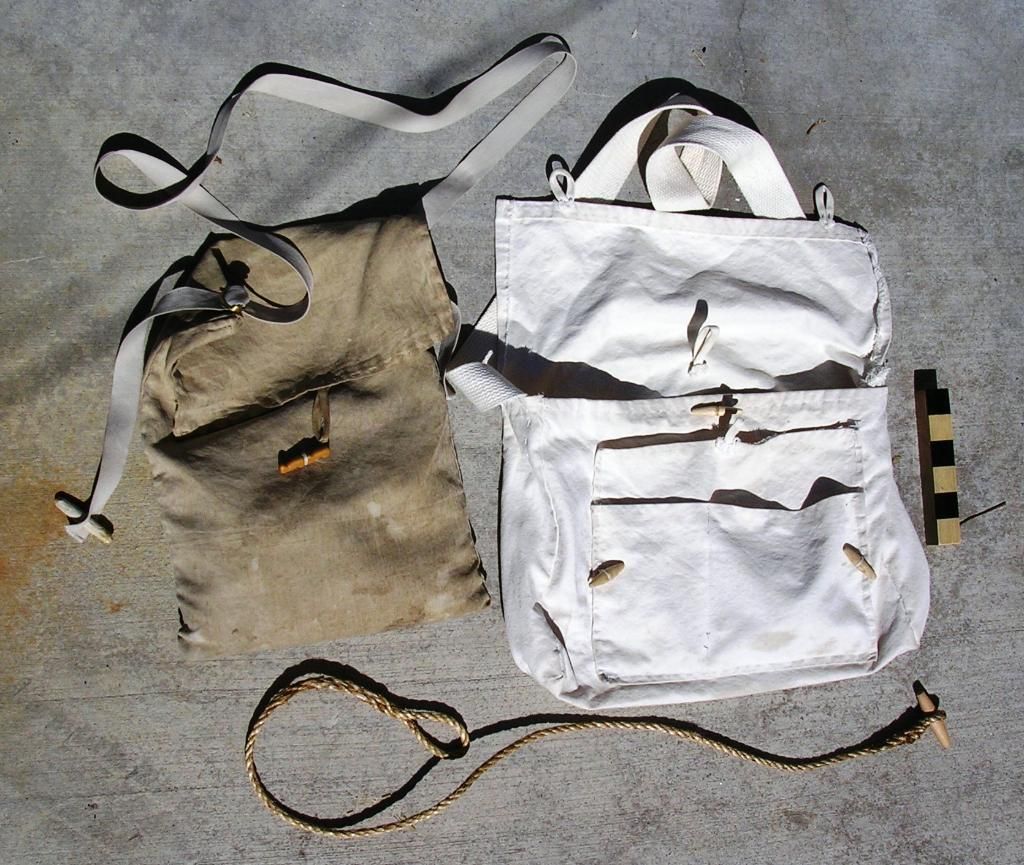 The bag on the left is the one I regularly carry, made of linen and treated with linseed oil and glycerin.  It has adjustable strap that is secured with brass fork buckles and at one end is a hand carved wooden toggle in a hitched button hole (the irony of that just occurred to me).  I put this on to hold my leather drinking jack when it was empty, I seldom use this toggle.  The main toggle is a S scroll carved of boxwood, hitched to the bag with linen thread.
The white canvas bag on the right has pine toggles that capture/are captured by loops of cotton webbing that is looped and sewn to the bag.  The center toggle captures a loop on the front and back of the bag to prevent it from sagging out in the middle.  This bag has been washed several times and the pine came through just fine.
The lower toggle is a toggle/becket belt, the toggle is inserted into the becket to secure ones trousers.  I also have a canvas riggers bag I made with the same arrangement for a carrying/hanging handle.  The pine toggle is drilled and the rope goes through and is secured with a self or becket splice.
*Interesting toggle fact, on whaling ships to lift large strips of blubber into the rendering pots was done with hemp rope and 6 inch wooden toggle, either hickory or white oak.  A slit was cut in the blubber and a loop or becket of rope was fed through and secured with the wooden toggle.  They didn't use metal hooks as some of these pieces of blubber were heavy enough to straighten out 100 pound wrought iron hooks.
Another item I have been working on is a Sailors Ditty Bag.  Don't ask me about my ditties.  I have no idea where the name came from, but they were interesting projects.  The small bag is made of thin leather with round leather lanyards and secured with a pierced leather washer and topped off with a 4 strand square sinnet.  The bag holds 50 gold Presidential Dollars and would make a good 'life preserver'.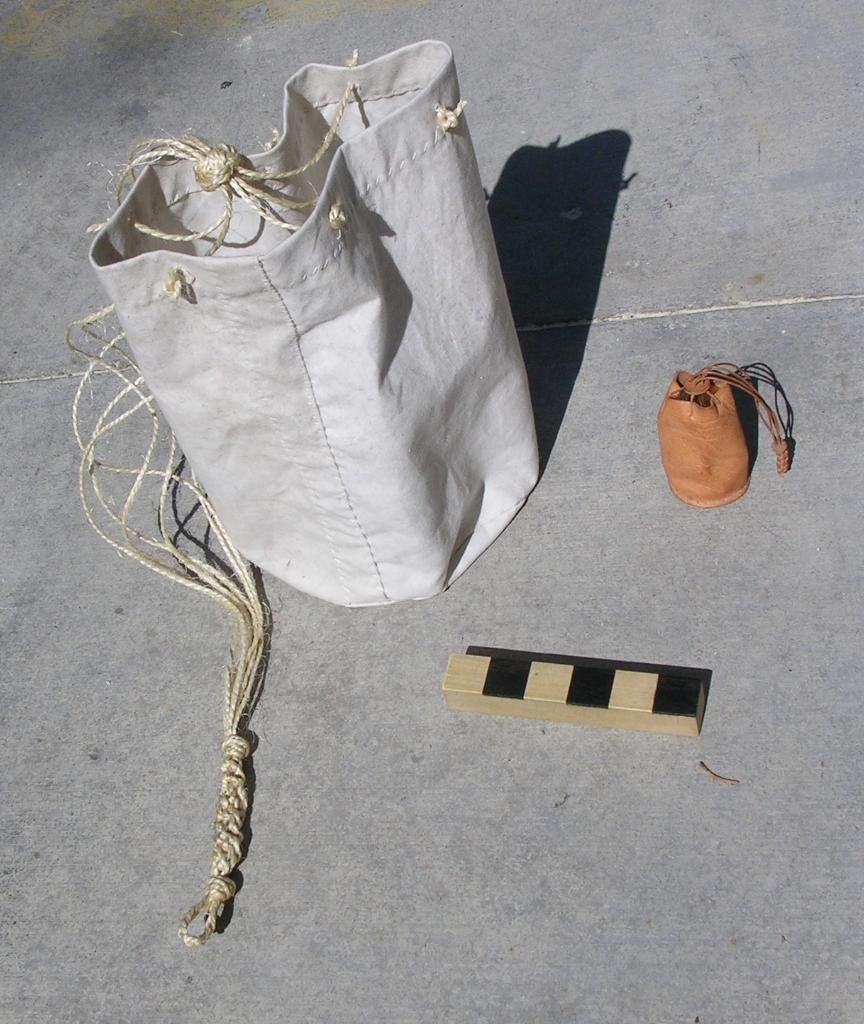 The canvas bag was a nightmare to hand sew, it was a little too thick, I should have used a lighter weight material.  I had Diamond Jim Davis punch the holes, I do have a punch but I wanted to hitch the button holes at work.  Well my fingers only lasted for 3 button holes, I have blisters on my fingers.
The bag has a temporary lanyard of sisal, but it is done as it will be when I get some cotton cord.  It starts with a 3 strand flat plat at the top, followed by a 6 strand Matthew Walker Knot, then a length of 6 strand right crown sennet, another 6 strand Mathew Walker Knot then the lengths down to the bag.  A Turks Head knot slides down the lanyards to close the top of the Ditty Bag.
I need to find a space to sling a hammock.
Stephen