I have to make a child's cradle and need a way to make the proper ellipse for the bottom.  Now I could have used a couple of nails and a piece of string but that doesn't look like this.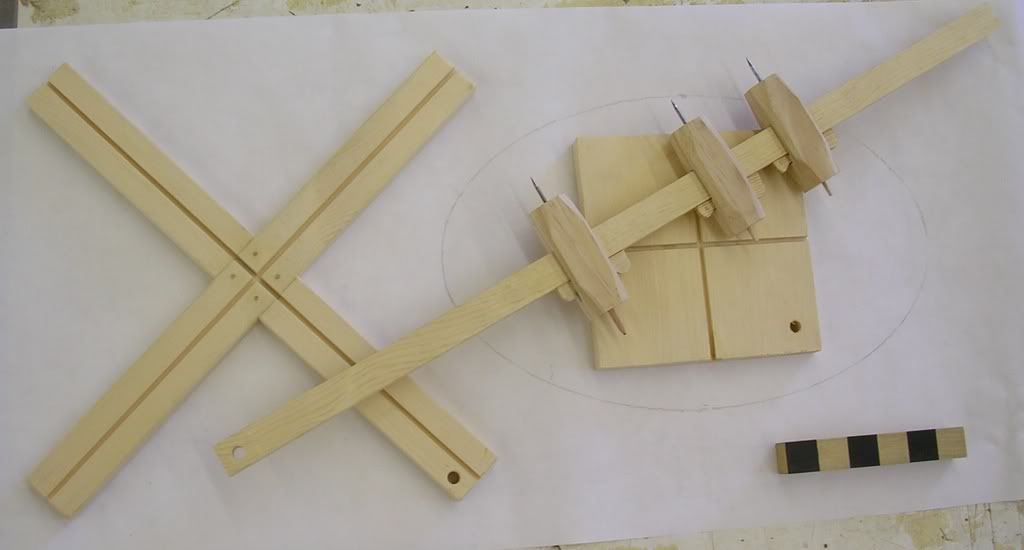 The gnomon is 6″ in length.  These are made of pine, with the exception of the maple pegs, the steel points and the pencil.  I have made several of these in the past, one very large one for a stained glass worker who had a theme of ovals, so this was perfect for him.  That model actually would hold a glass cutter.
This combines a beam compass, trammel points and the cruciform guides to make ovals.  With the captive wedges on the beam, the heads can be adjusted to what every size is necessary.  This allows for adjusting the major axis and the minor axis of the ellipse or oval, allowing for any size and shape of ovals.  I made two size cross guides to make both large and small ovals, ellipses or curves.
It can also be used as a beam compass with just two heads to make circles or it can be used as trammel points to transfer measurements.  It is also handy for setting and checking diagonal measurements to insure that a drawer, a box or a cabinet is square.
This is a fun tool to watch, children and adults are fascinated by how it is capable of making perfect ovals.  It fascinates me every-time I use it.  The two trammel heads with pegs are positioned to travel in the slots in the cruciform guides and as one moves down the slot the other moves out and then it reverse and all the time the pencil describes the oval.  And when making something like rocking chairs or cradles or oval picture frames, this is a very hand tool to have in the shop. and they look good hanging on the wall.
Stephen