While they have little in common, I did use a wooden mallet to drive the pegs into the ends of the spokes on the wheel's rim.
After doing all of the repair to the wheel rim, it was time to put this puzzle back together.  It took a couple of hours to figure out where the spokes went in the hub and then making them line up with their original positions.  It wasn't easy as there were too many choices and only one way that they went back together properly.  Had I had the wheel intact, I would have marked where each spoke belonged.
But two spokes were missing, so it was a lot of trial and error in fitting and testing the spokes to get them in their right place.  I have given the repairs and spokes a coat of shellac with burnt umber and a lot of yellow ocher to get the right base color.  After it dries I will give it a coat of shellac, burnt umber and a little black iron oxide to get the correct glazing color.
I did glue the spokes in the hub, which needs a little touch up at the wedge of wood hide glued into the crack.  I also put a drop of glue in the peg holes to secure the pegs.  I do believe that the original pegs were glued in place.  The new pegs are made of chestnut that I split out to insure proper straight grain.
Just a little repair on the flyer and the wheel will be done.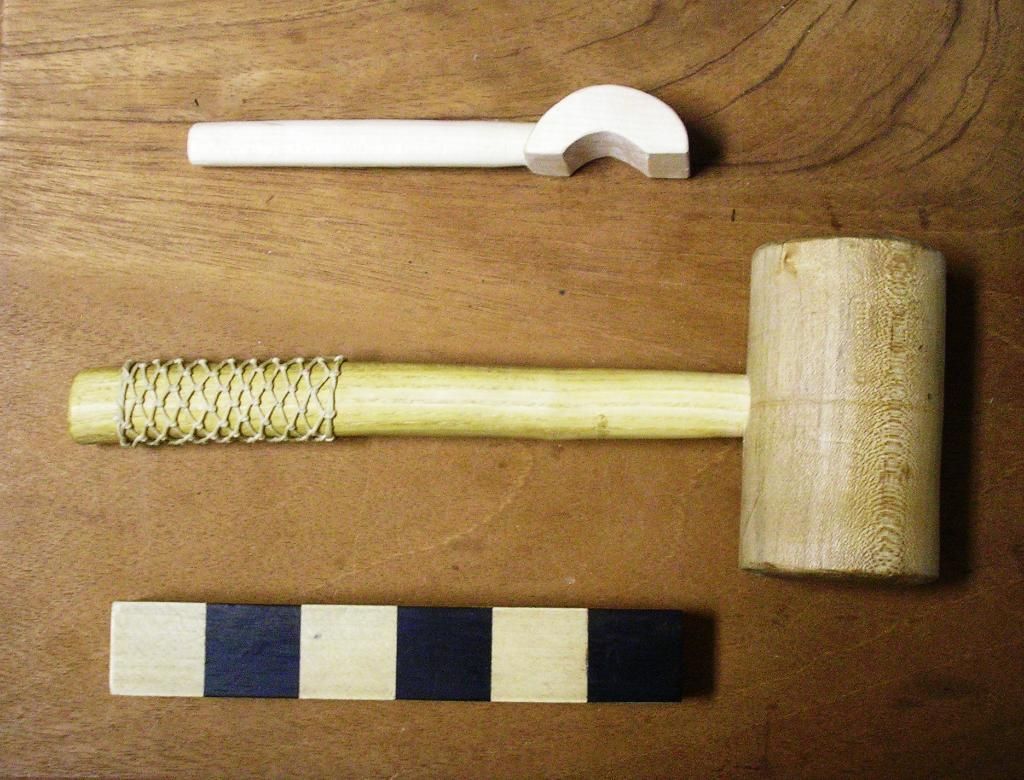 I also made a new mallet, the one on the top of this photograph.  I also put some needle hitching on a mallet handle.  It gives a good grip and a great look to the mallet.  The new mallet is one I have wanted to make for a long time, I am actually going to make a couple other versions of this 'serving mallet' to go with my kit.
A serving mallet is used to pull serving cord tightly around a rope when 'worming and serving'.
Stephen