This is the diminutive tool box that I picked up at the local swap meet.  I had purchased some tools, then noticed the box.  The lid was broken at the hinges and the modern red devices didn't seem to work, nor did the 11 modern finish nails, nor did the bit of modern glue used to 'repair' the damage actually do anything but keep all of the parts together.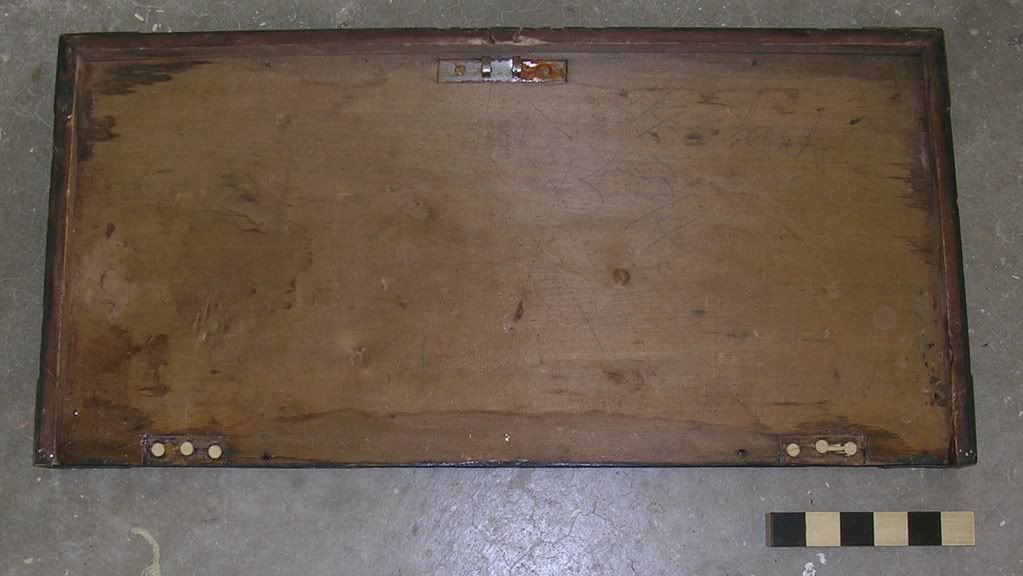 I took out the nails, cleaned out the glue, (was fairly easy, they didn't use clamps) glued and clamped the splits, which extended almost completely across the back.  When the glue dried, I cleaned off the excess and drilled out the old screw holes to 3/8″ and replaced them with 3/8″ bungs of poplar, matching the original species.
Most of the joints are butt joints, held with cut nails, the reinforcing bars on the top and bottom are mitered at the corners.  The corners are also reinforced with brass or copper held on with iron screws.  The bottom is inset, held on with nails and it was in the slight gap in the front edge was where the P.S. Stubs blade was found.
The till is also nailed together.  All surfaces are hand planed.  The lock is missing but the striker plate is in tact.  It also appears that the top was screwed down, perhaps for shipping, I left those holes.  There is also evidence of labels held with tacks on each end of the box.  It was probably made around the time of the Civil War.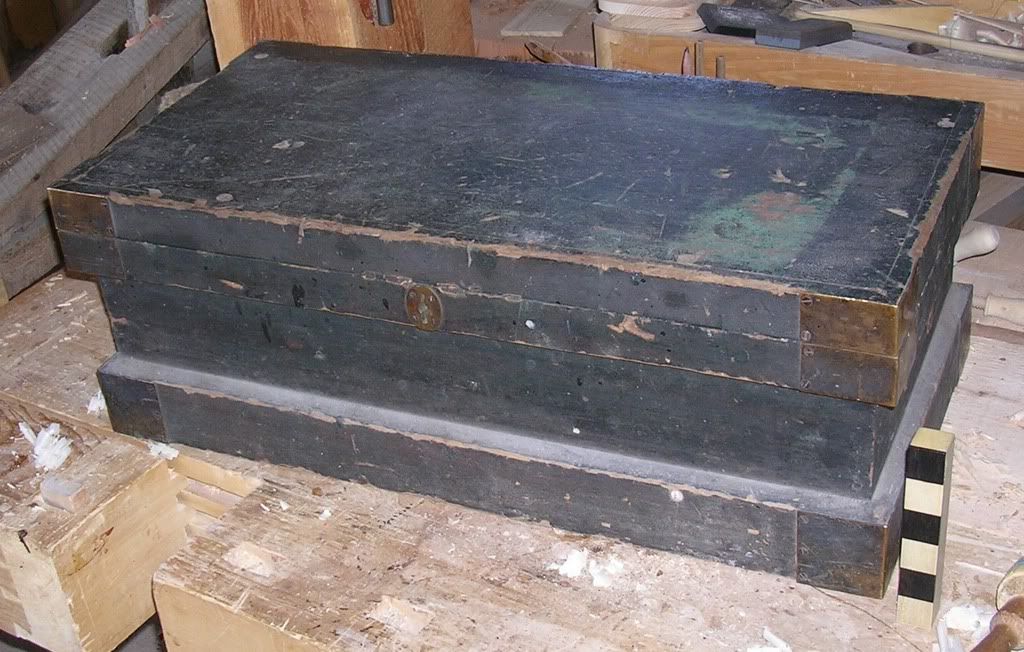 It also has much of its original green paint.  I actually think that I could lift this tool box, even if it was full of tools.  I have a couple of other tool boxes that can hardly be moved by two people, if it is full of tools.
There is no evidence of a stay to prevent the lid from damaging the screws in the hinges (which did happen).  I will add one to insure that further damage doesn't happen again.
Stephen