Well, there ended up being 9 students in the class, 5 were there all day Friday, 3 showed up after they got off work and got up to speed and Sal showed up on Saturday.  All got to the same level by noon on Saturday and continued throughout the day.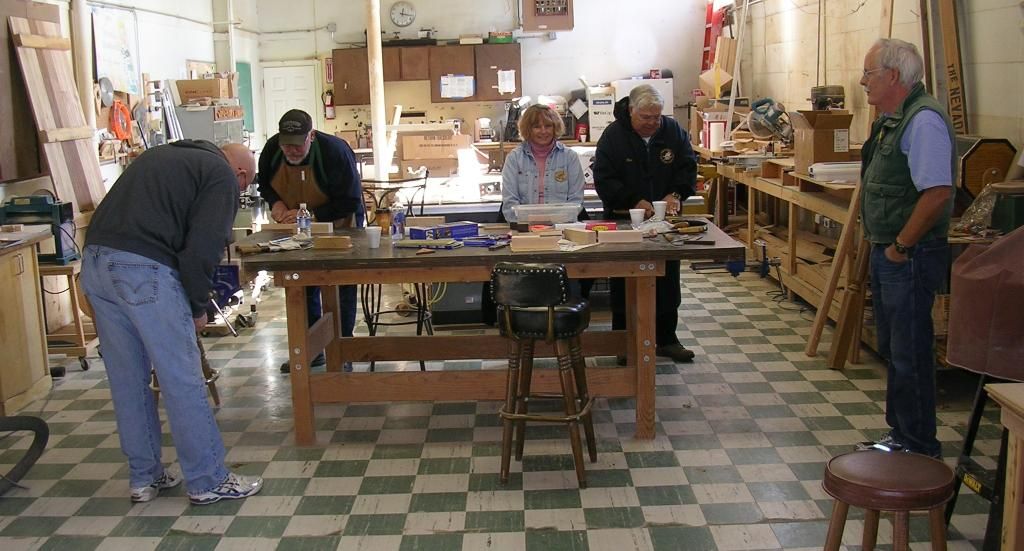 The Nevada WoodChucks 'clubhouse' is a well equipped workshop with benches (and vices) enough for all to have a place to work.  They do have power tools and I did not discourage them from using what was comfortable for them.  Above are the first five that were at work all day Friday.  Steven on the left with his back to the camera, next Tom (had to make sure his hat was in the picture), in the middle Jan who traveled from Fernley to take the class (she stayed with her daughter who lives in Reno.  Then Dick and Chuck, with his hands in his pocket (he finished his plane first).
Jan drilling the holes for the mouth and throat of the hand plane.
Rod, the current President of the Nevada WoodChucks was one of the three that showed up late on Friday, he got to the shop at about 3:30 pm and was able to get the throat chopped and caught up to the rest, quickly.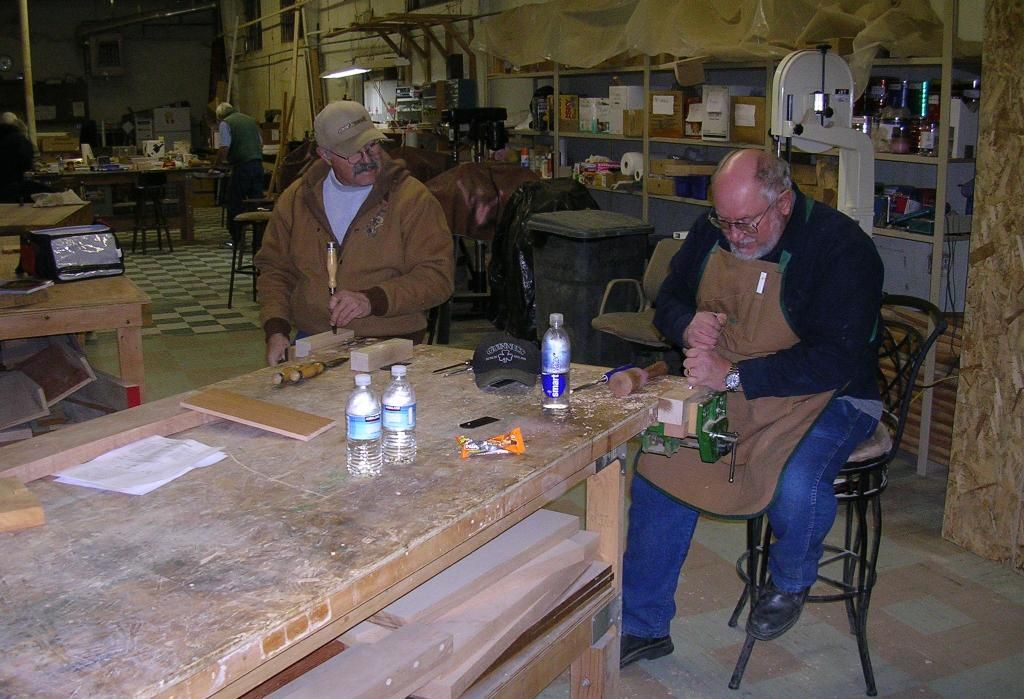 Joe on the left was another that showed up late on Friday as was Jason, I caught Tom without his hat.
And here are the happy Plane Makers.  From left to right Jan, Chuck, Jason, Dick, Rod, Tom, Jim, Steven and Sal.
They had the options of how to shape the outside of the plane, the inside throat and wedge escarpment were all the same for all planes.  Some picked the standard coffin smoother shape, others preferred the Moxon shape, there was one that was like a Moxon but had sides like a coffin smoother.  Rod chose a hybrid shape of his own design and Tom left his large and will decide later.  Everyone finished their planes on Sunday and got shavings.
Something happened during the workshop that was a first for me, I don't know if anyone has ever taught a workshop when one of the students was on the phone to their booky?
Everyone seemed to have a good time and invited me back next year to teach another workshop, there is some discussion as to what they want me to teach, perhaps the double hacksaw, but probably a router plane, although there is also talk of a hammer veneer workshop.
They insisted that I be in a photograph, so here it is, I am the one in the middle wearing an apron, it is not a dress.  I had a great time and sold lots of books, I actually ran out of The Universal Receipt Book I brought and sold a dozen Hide Glue Books and several Shepherds' Compleat Early Nineteenth Century Woodworker.
Now I am going to take a couple of days off and enjoy Reno.
Stephen