(I hope I am not violating any blogging laws by posting more than once a day, I appologize.)
Up-Down Saw Mill
This is a fairly typical up down saw mill that was common up through the industrial revolution when larger circular saws were available and when trees were much smaller as a lot of original growth had been cut down and burned.
It is a pole type building with its upright posts set in holes in the ground.  Sometimes the wheel would be under the mill as was Mr. Sutter's Saw Mill on the North fork of the American River in California.  This one is an overshot wheel with an overhead flume to bring water to the top of the wheel.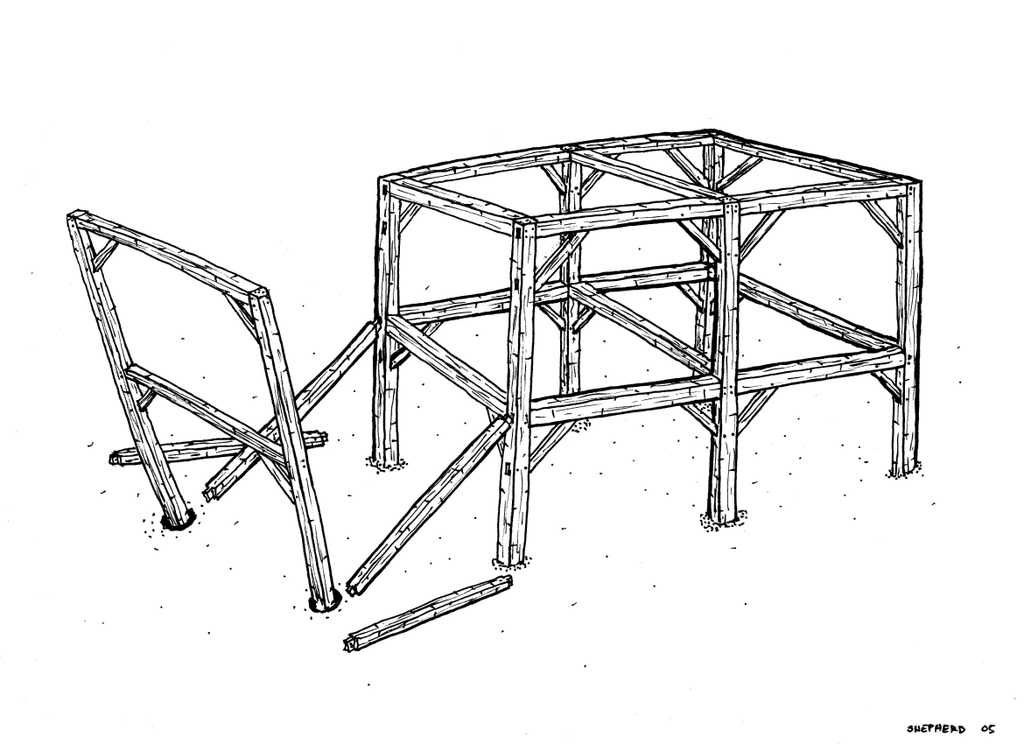 The bents are constructed flat on the ground and raised up to position and in their holes.  The connecting members are placed and pegged.
This shows the up-down sash saw mechanism.  The small pulley is a power takeoff for a lifting wench to bring logs up to the working floor of the sawmill.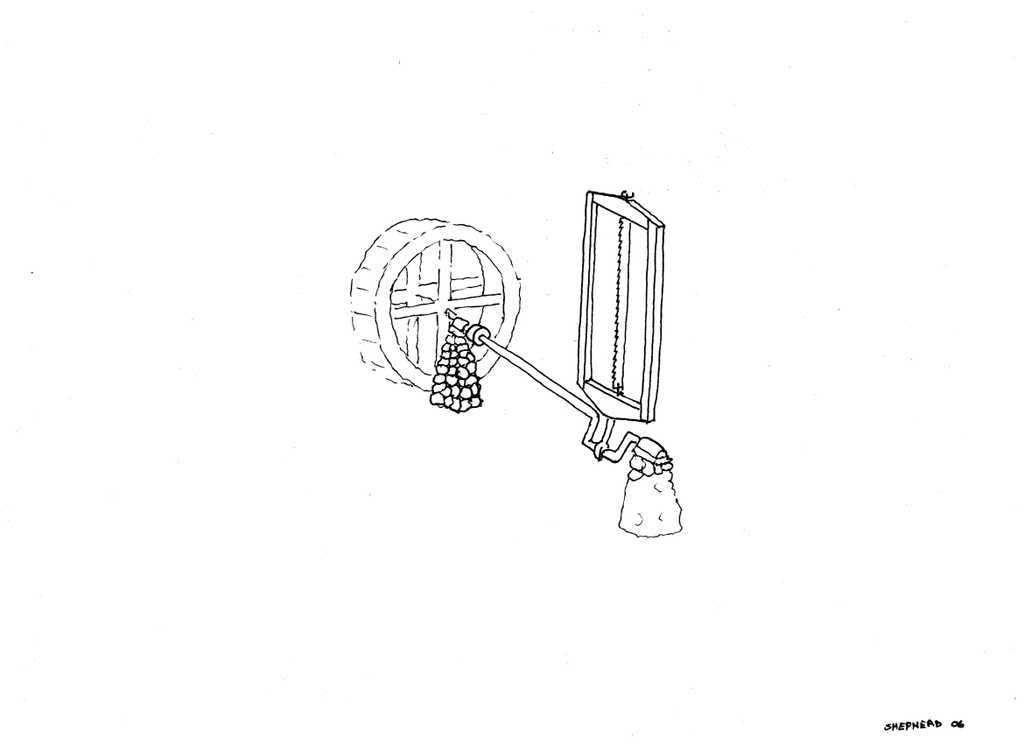 A ratchet mechanism advances the log on the carriage, which can travel a foot per stroke with the rip tooth web under tension usually was sharpened 1 tooth per inch with large gullets to remove the sawdust.  The sawdust fell under the mill and was usually shoveled into the tailrace.
The finished mill has no walls as they were only used in the warmer spring months after the thaw during the spring freshet.  This mill has a diversion sluice to allow the water to flow its course and not moving the wheel.  The head of water was diverted while a new log was being dogged to the carriage.
A mill similar to this was built in Utah Territory in about 1850; it had an overhead sluice with a roadway underneath.  This mill was also sided and was used year round.  When no water was available it had large grand wheels to operate the other machinery, namely a planing machine and turning lathe.
With saw webs up to 8 feet long, subtracting a one foot stroke and these saws could handle very large logs.  Most large logs from original growth forests in the nineteenth century and earlier were burned, they were too large for the sawmills to cut up.  Lumberman would cut logs to the length of the carriages of the mills they supplied and also knew the limits of the size of the log the mill could cut up into boards and timbers.
Historic buildings in the local communities will have similar measurements or multiples of those measurements because of the size of lumber and timbers that the local saw mill supplied.  This is an interesting bit of information because it allows us to extrapolate how big the saw mills were as not many originals have remained out here in the West.
Stephen