The first building I ever built, besides a log cabin for a movie was made of dirt.  Adobe or sun dried bricks have been used for thousands of years and when people came out to the West and areas where there is not a lot of wood to build log cabins, adobe was the choice.
Brigham Young had knowledge of this technique and it is ubiquitous in the West.  It is simple, mud, some straw, dried grass, animal hair, egg shells, sand and wood ashes was mixed with water into a thick mud and placed in wooden molds and allowed to air dry and sun bake.
I made a 6 gang mold that would make six bricks matching the size of old adobe bricks and they do vary in size.  These are about 4 inches thick 8 inches wide and 16 inches long.  The mold is made about a half inch larger as there is some shrinkage when the adobe dries.
The adobe mixture is made in a pit and the pits were moved to fresh dirt and the mixing process begins.  One important ingredient that goes largely unmentioned is the addition of wood ash.  Simple ash from stoves and fireplaces add an important ingredient to the adobe and makes it more waterproof than adobe made without.
However given the uniform color or gray of the old adobe indicate that they did use wood ash, and they knew why.  It acts similar to portland cement and the wood ash reacting to water makes for a harder brick.  The mud is then shoveled into the molds, pounded down to remove any air spaces and is screed off to smooth off the tops.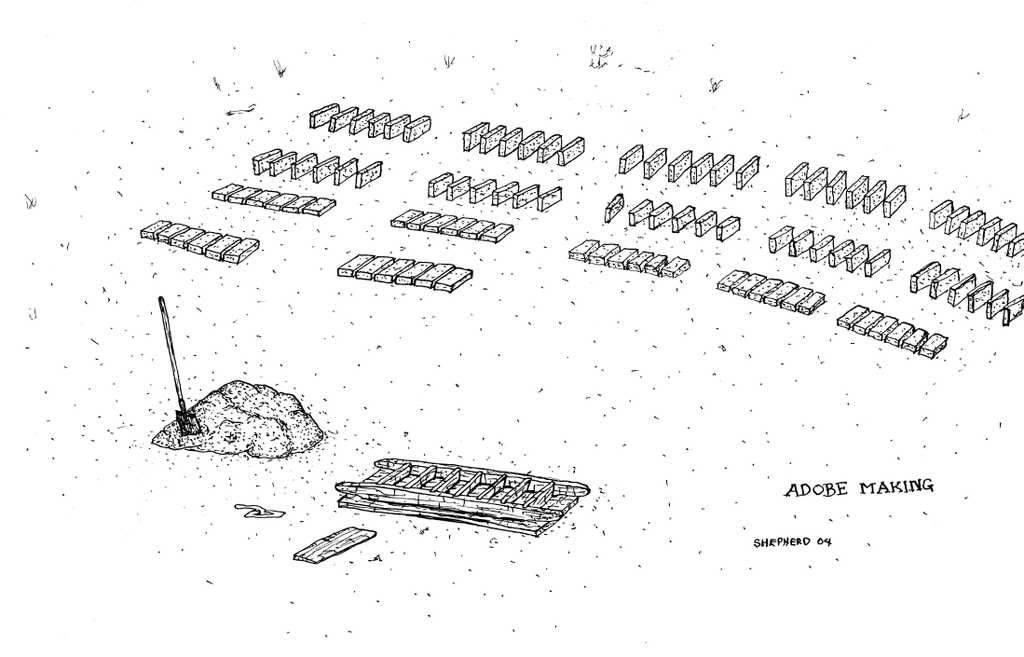 The mold is then lifted, it requires two people to lift it off, it is repositioned on some fresh straw and an new batch of mud is is shoveled into the mold and the process is repeated.  Each new day the bricks are turned up on edge and turned over to allow all sides to dry equally to prevent cracking.  The straw, hair, grass all help to bind everything together, but it is important that the pieces dry equally.  Turning is done on a daily basis.
Depending on the weather, temperature and humidity the bricks dry in less than two weeks in the summer, the best time for making bricks.   We were actually building this building as we were making the adobe bricks, I had a helper to do the work but we made the bricks and built this adobe building in about a month, that was in 1977,  the photograph is from today.
Adobe buildings are cool in the summer and warm in the winter.  Most adobe buildings were covered with stucco or siding to protect them from the weather as they are not fired so they are water soluable.
Stephen