The Workbench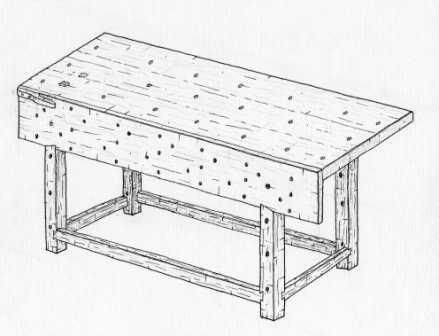 Much attention has been given lately about various historical iterations of the trusty workbench, that stalwart of the workshop, that one tool necessary to get any woodworking done.  There are detailed original engravings showing every type of workbench and most of them are complex with fancy joinery and a variety of 'improvements' included on each.
I for one was caught up in the fray and have built about 10 benches in 40 years; I only built one with the useless tool tray and have converted two benches with trays to useful benches by removing the useless tool tray abyss from the workbench top.
The last bench I built was one of the simplest designs and if I were to build another it would be even simpler.   A couple of the benches were quite nice and I was apprehensive to use it, so I sold it and built another that didn't have that problem and I used it for several years.  I have seen benches built by folks that looked like a piece of furniture made out of fancy hardwoods with a high gloss finish and were quite very impressive.  I think the first time a sharp chisel went into the bench top the owners went apoplectic.
There are even books written about workbenches and on woodworking forums there is always a thread about the latest efforts to build the 'perfect' workbench.  I enjoy some of them because it is them doing the work and not me.  I don't think there is a perfect workbench but there are several that approach perfection, sort of like the search for the 'ideal chair', the search continues.
When researching old probate inventories and other historical records; workbenches are mentioned and occasionally priced and much to my surprise the workbench or bench was listed for very little money.  If the list included a bench vise it was always much more expensive than the bench.  The books that mention building a bench the description is quite simple, left rough everywhere but the top.  Books also mention buying second hand benches.
And the value of these benches, were from $0.05 to 0.375, which is not much even in nineteenth century dollars, a skilled craftsman would make about $1.50 a day.  The cost of a workbench was less than a glue pot.  Of course there are some surviving workbenches that would have more value, but by and large it was just another tool and not much time or effort was wasted on making a bench when it was much more important to get to work to make things that could make money.  And that is the difference between then and now.
Today we can take inordinate amounts of time on building a workbench because most of the people doing this kind of woodworking are not making their living doing woodwork.  Not that there is anything wrong with this, I like workbenches and have my opinions as to what contributes to a good workbench, like a top made of softer wood so as not to damage the work being done on the workbench, &c. 
I think a lot of people decide to build the fanciest bench they can find and don't really think about what they will actually be doing on that bench.  Many of them then realize when their bench is finished that they never use the tail vise and most regret the tool tray, etc.  When building a workbench consider what you need to get done and build a workbench that will accomplish those goals.
Stephen